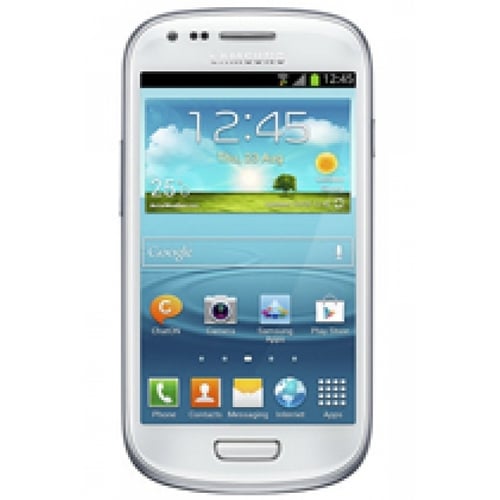 Sell My
Broken
Samsung Galaxy S3 Mini I8190
for the best price online
Sell your Broken Samsung Galaxy S3 Mini I8190 with OnReycle and get the most money. We compare all major phone recyclers in seconds.
Is your phone locked to a network? If so, please choose a network below:
Unlocked
EE
Orange
T-Mobile
Three
Vodafone
O2
Tesco
Virgin

Lyca Mobile

Giff Gaff
Payment

Recycler

Price

Freepost

Sameday

Period

Methods

User Rating

Sell Now

Loading recycler prices...
---
Selling your Samsung Galaxy S3 Mini
Released in November 2012, the Samsung Galaxy S3 mini is another mobile device in the wide range of Samsung products available. As the name suggests, the S3 mini is a smaller version of the Galaxy S3, but it still manages to retain many of the latter's features. As with other Samsung mobile products, the value of the S3 mini has retained quite a high value despite subsequent upgrades, so, if you are considering selling your S3 mini, now might be a good time to do so. Choosing to do so through OnRecycle makes the task easier for you and a free, no obligation quotation is instantly received without any hassle. Therefore, even if you are not sure as to whether or not you wish to sell, you could choose to get a price to help with your decision making.
Why OnRecycle?
OnRecycle have built up some key relationships with many of the big recycling companies. As a result, we are able to supply you with prices from a range of buyers, quickly and easily. As with other price comparison websites, we make the task of receiving a quotation easy. Simply find your device from the search menu and filtering it to your requirements will bring up a list of potential buyers. Where we differ from others, however, is that we allow you to search without having to enter any of your personal details or email address. This ensures that you do not receive unwanted emails with often end up in trash folders!
With over 6 years of experience in the e-commerce industry, OnRecycle are a trusted source of online comparison, as many of our customers are finding out. With over 40 recyclers to choose from, sellers can be assured that they will find the right one to match their requirements. We have done the hard work so that you don't have to!
How It Works
To receive a quotation, all that you need to do is search for your device on the search bar at the top of the page. Click 'go' to reveal a list of products that match your device. Find the one that matches your phone from this list and you will be transferred to a new screen with further details.
At this point, you will need to change the filter to suit the model and condition of your phone. Choose between new, working and broken (yes, recyclers will even buy broken models from consumers!) and then change the size of your device if necessary. For the Samsung Galaxy S3 mini, you have both 8GB and 16GB options.
The screen then brings up a list of recyclers that match your search. At this point, we recommend that you consider a range of factors before choosing the recycler for you. It can be tempting to enter into an agreement with the recycler who offers you the most money, however, this may not be the one that is best suited to your requirements. For example, we suggest that you check how quickly the recycler will make payment, and by what method. It is also worth reading some of the reviews left by other consumers who have used the recycler in the past. Naturally, OnRecycle have implemented a star rating system, to take a lot of the hassle out of your task. You will also notice that we have placed the recommended recyclers at the top of the search results.
Once you have chosen a recycler, you can then click 'sell now' to proceed to the next step of the selling process. Depending on who you have chosen will depend on whether you sell through the recycler directly, or OnRecycle. Selling through OnRecycle will enable you to enter your financial details securely. We are also available to help you during every step of the sales journey.
The Samsung Galaxy S3 Mini
The S3 mini was released in November 2012 and, as the name suggests, is a smaller version of the Galaxy S3. The phone's super AMOLED display is just 4 inches big, however, the model has managed to retain most of the key features that the S3 has. It has a dual-core processor, powered at 1 GHZ and with 1 GB RAM.
The phone has a 5 megapixel rear camera, and a front-facing VGA camera for videos or those all-important selfies! It operates with the Jelly Bean operating system which provides stunning graphics and visuals.
The phone also a number of other useful features such as 'Pop-up play' which enables users to text people whilst watching videos. In addition, the phone is very intelligent, with its direct call facility. This allows you to phone someone who you have been texting, if you decide that you should speak to them instead. Simply tilt your head upwards, and the phone recognises that you wish to call them.
Another feature, which is now commonplace for many mobile devices, is the voice recognition system. The Galaxy S3 mini has the 'S-voice' function which allows you to unlock the phone, choose to play music, turn the volume up, organise your schedule, or open the phone's camera facility simply by talking to the device! This allows you to make commands and dictate your requirements without any of the back-talk!
The phone's intelligence is also reinforced by the 'smart alert' facility. If you are in a meeting, for example, and someone has tried to ring you, the phone recognises when you are able to operate it again, and gives you a notification via vibration, to alert you to the missed call. With all of these functions, it's almost like your own virtual secretary with you at all times!
Whatever your reason for wanting to sell your Galaxy S3 mini, whether it be to upgrade to a new model, or to receive cash whilst you can, OnRecycle are here to help you along the way. Simply enter your details and receive an instant price, helping you to make the decision of whether you wish to sell.
You are viewing: Broken
Samsung
Galaxy S3 Mini I8190
up to the price of:
£3.00