Sell My Google Pixel XL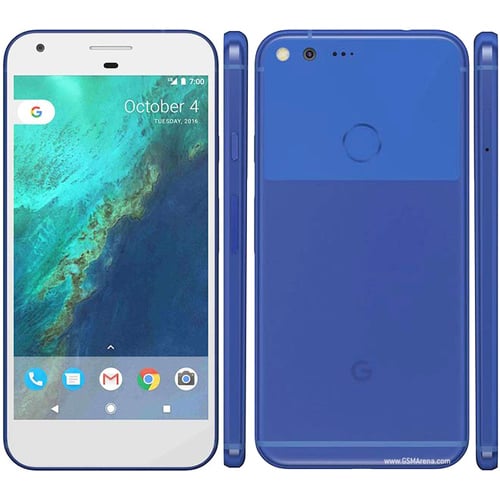 Sell your Google Pixel XL with OnReycle and get the most money. We compare all major phone recyclers in seconds.
Payment

Recycler

Price

Freepost

Sameday

Period

Methods

User Rating

Sell Now

Loading recycler prices...
---
It is incredible to think that Google is just 21 years old - it feels like they have been around forever. Each time that people use the internet, or even a range of other technological products, it is hard for them to do so without seeing some reference to Google.
The company's founders, Larry Page and Sergey Brin must feel like some of the luckiest people on earth as they work in their headquarters, within Mountain View, California. That said, they probably also feel the weight of the world as the expectations of Google around the world could hardly be any greater! With all the power behind them, Google has expanded into other operations and designed products such as the 'Home Smart' speaker and 'Wi-Fi Mesh' router. Elsewhere, Google also have a place in the mobile phone market.
Google's smartphones are perhaps some of the lesser well-known products that the multinational company has put its name to. That said, their latest range of smartphone is right up there with the top competitors, and we are confident that in years to come, Google will continue to compete with other phones such as the Apple iPhone and the Samsung Galaxy. As things stand, however, the iPhone is the market leader, and its range of products might make some Google Pixel users consider switching to Apple.
The Google Pixel XL is Google's latest release, and has a range of stunning features. However, one handset does not suit everyone and many buyers may be looking to cash in on their existing Pixel XL whilst its price remains high. If you are one of these people, OnRecycle are here to help you.
---
Who We Are
OnRecycle are a team of experts who specialise in creating relationships between smartphone buyers and sellers. We understand what it is like to have a device that you no longer need or like, and encourage customers to cash in on their unwanted product while the demand (and the competitive price) is still there.
What puts a lot of people off selling their smartphones is the stress of having to shop around for a buyer. Perhaps they feel they don't have the time, and the financial reward at the end of it will not be worth it. OnRecycle are here to tell you that we can make it worthwhile, by taking the hassle from you.
So, if you have a Google Pixel XL and are considering selling it so that you can switch to another model (or simply require a quotation at this stage), we are here to guide you along every step of the journey.
---
Our System
When our team went through the website design process, we put ourselves in the position of the consumer (after all, many of us have been in this position!). We asked ourselves what consumers want, and what stops them from trading their phone in. What do consumers really need?
The result is the comparison service that we have produced. We recognise that consumers are busy people and have enough going on in their lives without having to deal with complex selling tasks! Our service is incredibly easy to use, and instantly links you with the people who want to buy your Google Pixel XL from you. Here's how it works:
---
How The Service Works
After entering the name of your phone (Google Pixel XL) into the search bar, you will see your screen update to showcase the related models available. Simply click on the model that matches your device and you will be asked for a few more details. We'll need to know the phone version (either 32 or 128 GB) and its condition, (is it working, broken or new?) as these factors will affect the price that you can receive. Having selected the relevant details, you are then free to relax and enjoy watching the list of recyclers bid for your device!
You can amend this list by sorting it by the recycler you wish to trade with. Some of the factors you should consider include price, payment terms, and the reputability of the recycler. Click on some of the user reviews to check that you are choosing a recycler that is trustworthy and has been used by other sellers who are in a similar position to you.
Having chosen your buyer, simply click on the 'sell now' button to complete the process and receive cash for your Pixel XL. Selling your phone has never been easier!
Now that you have sold your Pixel XL smartphone, you might be looking to see what else is out there. Here are some details of the Pixel XL, for you to compare your search to:
---
Google Pixel XL
The Pixel XL was released in October 2016, complete with a streamlined Android software to help make browsing quicker and more enjoyable. Although it was released with Android 7.1 Nougat, it has since been updated with 7.1.2 which has virtual reality powers. This has made gaming more enjoyable, and the device even links with the 'Google Daydream View' headset so that gamers can really immerse themselves into the world of their favourite virtual characters.
The screen's display is one of the biggest selling points of the Google Pixel XL, having a Quad HD resolution, on a screen size of 5.5 inches. There is no doubt that the resolution has helped to sell a large number of these smartphones and the camera functionality enables users to store photos through the cloud via Google photos. Where this phone also stands apart from its competitors is the camera lens which has no 'bump' on the back.
Furthermore, the phone comes with Pixel's 'assistant' which takes commands from you and answers your questions intelligently. It has 4GB of RAM, and is available to buy as either a 32 or 128 GB model.
---
You are viewing:
Google
Pixel XL