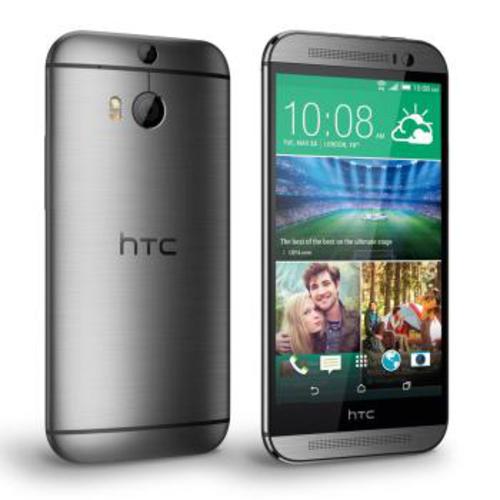 Sell your HTC One M8 with OnReycle and get the most money. We compare all major phone recyclers in seconds.
Payment

Recycler

Price

Freepost

Sameday

Period

Methods

User Rating

Sell Now

Loading recycler prices...
---
Founded in 1997, HTC (formerly known as High Tech Computer) has become one of the largest designers and manufacturers of mobile phones in the world. Their range of smartphone products began with the O2 XDA (also the Wallaby) in 2002 and their latest is the One A9 which was released in September 2016. The HTC 'One' is the title of their most recent range of products, with the HTC One M8 amongst its list of bestsellers.
Released in 2014, the One M8 comes with all of the up-to-date features that you would expect from a 2014 smartphone, and was a popular purchase when it was released. That said, its sales figures failed to match up to the Apple iPhone and Samsung Galaxy counterparts, and many buyers may have wished that they had chosen an alternative.
OnRecycle are passionate about pairing mobile phone users with their perfect device, and reject the notion that once you buy a handset you are stuck with it for good. We have found a massive market that are prepared to buy your unwanted HTC One M8 off you, and can offer you a fantastic price in the process. If you have an unwanted HTC One M8, we strongly encourage you to find out more about what we can do for you.
---
What OnRecycle Can Offer
We've teamed up with the world's largest online recyclers, to provide customers with a database of suitable buyers for their unwanted HTC One M8 smartphones. We invite you to take advantage of our hard work, by using the OnRecycle system - a website which compares prices from a range of online recyclers, giving you the information you need to make a decision on your HTC One M8.
The website is easy to use, and gets you the information you need in a matter of seconds. We know that with a busy lifestyle, you have more important things to do than to spend hours shopping around for potential smartphone buyers. What we mean is, we've done the hard work so that you don't have to! Here's how it works.
---
The Easy-To-Use Process
At the top of every page is a search bar which allows you to enter the HTC One M8 in to. Having done so, you will see the device appear as a dropdown option and clicking on this smartphone brings up a new screen.
You can now tweak the options to give us honest, accurate information about your specific phone. Choose the condition, the version (either a 16 or 32 GB models) and the network that your phone is locked with, to suit your device. This is the only information that online recyclers need to begin bidding; and they will do so instantly!
The list of recyclers is immediately produced below the product details you have entered. This list can be filtered to suit your requirements. Whether your main concern is price, payment period or user rating, you can adjust the search results accordingly. We encourage you to consider the recycler you are selling with, and to read more about experiences from other users. Furthermore, you should look at how quickly (and by what method) the recycler will make the payment.
Once you have chosen your recycler, you can start the sales process by clicking on 'sell now.' If you get the option, we recommend that you sell through the OnRecycle system. This will provide you with our expert guidance throughout the process (should you need it), as well as the reassurance of our secure payment system.
That's all there is to it. Within minutes of logging on, you can sell your phone at a fantastic price and immediately begin to make a decision about your next device. If you are happy with HTC mobiles, you might look at one of the more recent models, such as the HTC One A9. Alternatively, you may wish to change the manufacturer and model, and enjoy using something entirely new. Whatever you decide, it is a good idea to compare your potential purchase against the HTC One M8, so here is our review of it, for your reference:
---
HTC One M8
The HTC One M8 is a fashionable smartphone, launched by HTC in 2014. The phone's appearance gives you everything that you expect from a high-quality phone with flashy, futuristic designs available in either Gunmetal Grey, Amber Gold or Glacial Silver. The phone weighs only 160 grams, allowing the user to make calls, send messages, browse the internet and watch videos easily and comfortably.
The 4-megapixel camera with autofocus, dual-LED and flash facility gives the phone a creative function, as you can take and record top-quality snaps easily and enjoyably. Plenty of storage is available, with both 16 and 32GB models. If this is not enough, there is additional storage available via a micro SD card slot which adds the storage potential up to an incredible 256 GB. Google Drive can also be utilised for an extra 100GB of cloud storage. The handset is also supported by 2GB of RAM.
The M8's 5-inch display creates an enjoyable browsing experience, which is supported by its 1080 x 1920 resolution. In fact, when the M9 was released a year later, HTC did not see the need to improve on that and the same resolution quality was used for that model.
Another unique feature of the HTC One M8 is its battery. The phone has a reported talk time of up to 14 hours, and HTC are also proud of the M8's fast battery charging facility - capable of charging 60% in just 30 minutes.
---
You are viewing:
HTC
One M8
up to the price of:
£1.00