Sell My
Microsoft Lumia 640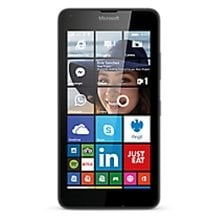 Sell your Microsoft Lumia 640 with OnReycle and get the most money. We compare all major phone recyclers in seconds.
Payment

Recycler

Price

Freepost

Sameday

Period

Methods

User Rating

Sell Now

Loading recycler prices...
---
The Microsoft brand seems to have been around forever! Since launching in 1975, its founding members (Bill Gates and Paul Allen) could not have predicted how much it would grow in the next 40 years. At the same time, it is unlikely that they could have grasped how quickly technology would grow in that space of time, and just how popular it would become.
Microsoft have been able to capitalise on this growth, and now have their name associated with software such as Office, Internet Explorer and Edge. Not only are they providers of computer software but they are also renowned for consumer electronics, personal computers and even smartphones.
Smartphones are, arguably, the category in which Microsoft provide a lesser-strength competition to their rivals. Acquiring the Nokia devices and services in 2014 suggests that this is one area of their business that they are looking to grow in the near future. However, as of 2017, the mobile phone marketplace is dominated by the Apple iPhone and Samsung Galaxy smartphones, and devices such as the Lumia 640 are not as popular.
As a mobile phone consumer, it can be frustrating to own a device like the Lumia 640 when there are potentially more suitable products for you on the market. Perhaps you want to change to a newer model? Or maybe you want to try a new manufacturer? Whatever your reason, OnRecycle are here to help you get you one step closer to your perfect handset.
---
How OnRecycle Work
OnRecycle work with some of the biggest online recyclers in the world, giving consumers the opportunity to sell their device to a company who will give them a fantastic price for it. We've spent hours designing and building a system which works in a similar way to many other price comparison websites out there. It allows you to enter the details of your Lumia 640 handset before receiving a list of quotations from potential buyers.
---
How The System Works
When you enter our website, you will notice that each page has a search bar located towards to the top. Simply type the details of your device (Lumia 640 or 640 XL) into this search bar and you'll see a list of related products. Click on the corresponding handset to be transferred to a new screen.
We will now ask you for more specific details concerning your Lumia 640 device. In order to get an accurate quotation, we need to know the condition that your handset is in (even broken devices receive a great price!) and the network that your Lumia 640 is locked to (if any).
Once you've selected the relevant options, the screen will automatically update, providing you with a list of recyclers who want your device. It couldn't be simpler! Now, for selecting a recycler who matches your needs. Once more, OnRecycle have considered you in the process - designing a system that can be easily customised to suit your requirements. For example, if you are mostly concerned with the price, simply click on the 'price' field, and the highest price offered will appear. If you are more interested in receiving immediate payment, click on the 'payment period' field and the recycler who will pay you the quickest will move to the top of the list.
The final factor that you can to organise the list by is the 'user rating' field. This is arguably the most important field that you should search by, as it gives you the details of the experiences previous sellers (in a similar position to you) have had. Not only do we recommend that you look at the star rating of each recycler, but also to click through and read the full review - this will help you to work out how reputable they are.
Once you've made your decision, you can click on the 'sell now' button, which takes you through the remaining steps required to sell your device. If you get the opportunity to sell through OnRecycle, you can take advantage of our expert advice and guidance (should this be needed) and you will also be sharing your details through a secure system.
When you've received the money for your Lumia 640, you are ready to shop for your next smartphone. Here is a brief review for both the standard 640 and the 640 XL, to enable you to compare your next handset against your previous device.
---
Lumia 640
In 2015, the Lumia 640 was released by Microsoft. The 145g phone has a 5-inch display and dimensions of 141.3 x 72.2 x 8.8 mm. In keeping with other popular smartphones released around this time, it has a lightweight, slim appearance in a rectangular shape.
The 640 has an 8-megapixel camera and a display resolution of 720 x 1280. Storage-wise, the handset is only available to buy as an 8GB model, but extra storage is available through the device's micro SD card slot (up to 256 GB). The phone also has 1 GB of RAM.
The Lumia 640 is available to buy in glossy cyan, orange, white and matte black. Its battery has a talk time of up to 17.5 hours and stand-by of up to 864 hours with 3G.
---
Microsoft Lumia 640 XL
The 640 XL was also released in 2015, and has many similar features to the standard 640. However, as its name implies, the device is larger in size (with dimensions of 157.9 x 81.5 x 9mm) and a screen of 5.7 inches. Due to this, the handset is heavier, weighing in at 171g. It has a higher-spec camera, with 13 megapixels. Where the 640XL really comes into its own, is with its battery which is capable of up to 936 hours of stand-by and up to 23 hours 40 minutes of talk time (with 3G).
---
You are viewing:
Microsoft
Lumia 640