Sell My
Samsung Galaxy Alpha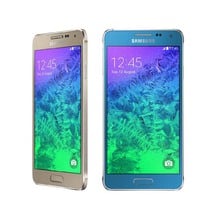 Sell your Samsung Galaxy Alpha with OnReycle and get the most money. We compare all major phone recyclers in seconds.
Payment

Recycler

Price

Freepost

Sameday

Period

Methods

User Rating

Sell Now

Loading recycler prices...
---
Founded in 1938, Samsung are a multinational conglomerate whose headquarters reside in Seoul, South Korea. They have become extremely influential on various aspects of South Korean life, including the nation's politics, economic development and their media and culture. It is incredible to think that Samsung began its operations, selling fruit, fish and vegetables to China! Such is the size of the Samsung brand today, they have 3 huge buildings in 'Samsung Town' - an office park located in Seoul.
Throughout the 1990s, Samsung focused heavily on mobile phones. They created what has been suggested is the lightest mobile phone of the era, in the form of the SCH-800. Now, their portfolio of smartphones has extended into the most recent 'S' range which is one of the most sought-after models in the world today. As a result, older phones such as the SCH-800 and the Galaxy Alpha have moved lower down on the consumer's priority list.
If you have a Samsung Galaxy Alpha, and are considering trading it in for a newer model, OnRecycle can help you. We work with some of the major recyclers in the world, to give you a platform upon which you can sell your Galaxy Alpha smartphone. In line with many of the popular price comparison websites on the internet today, we have created a system which allows you to find the perfect buyer for your Galaxy Alpha, within a matter of seconds! The system is easy to use, and, when it was built, it was done so with the customer in mind. As a result, the order of the quotations that you receive can be changed to suit your specific requirements.
---
How The System Works
OnRecycle have done all the hard work so that you don't have to! Simply enter 'Samsung Galaxy Alpha' into the search bar at the top of the page, click on the device, and you will be taken to a new page that asks for some more specific details.
Naturally, the value of your phone will be affected by the condition that it is in, and the network that it is locked to (if any). Recyclers need to know this information, as it affects how useful your phone is to them. Please answer honestly to avoid unnecessary stress and disappointment further on in the process. Even if your phone is broken, you can still receive a fantastic price for it.
Once we have these details, we can begin the process of pairing you with a recycler who fits your requirements. You may have noticed that the list of buyers has updated to show a series of quotations - yes, this is how much recyclers are willing to pay for your phone! In just a matter of seconds, you have the information you need to make a key decision about the future of your Samsung Galaxy Alpha.
At this stage, it is worth bearing in mind that you are under no obligation to sell. If you decide you will hang on to your Galaxy Alpha you are more than entitled to do so, and as we haven't asked you for any contact details, we will not harass you with any sales calls or emails. That said, we are confident that you will be keen to sell when you see the fantastic prices being offered to you!
Having viewed the recyclers, you are now in a position to choose one. You can filter by the 'price' column, the 'payment period' column or the 'user rating' column. This last one is particularly important as you want to be confident that you are selling to a reputable company who will follow through on their word. Take the time to look at our handy star rating system, and read the reviews from previous sellers. This will give you a well-rounded basis upon which to make a decision.
Now click on the 'sell now' button next to your chosen recycler and follow the steps on-screen to sell your device. If you are given the option, we recommend that you choose to sell through OnRecycle as this gives you the benefit of our expert advice and guidance, as well as the opportunity to use our secure payment system.
Once you have sold the phone, and the money arrives in your bank account, you can start shopping for your next device. In order for you to compare other phones with your old Samsung Galaxy Alpha, here is our brief review of the handset.
---
Samsung Galaxy Alpha
The Samsung Galaxy Alpha was released into the mobile phone marketplace in 2014. During this year, Samsung also released the S5, so the Alpha had competition from a device launched by its own manufacturers. The Alpha weighs 115 grams and is available to purchase in 5 colours: charcoal black, sleek silver, dazzling white, frosted gold and scuba blue.
The Galaxy Alpha has a screen with a display size of 4.7-inches. The screen is complemented by the device's super AMOLED capacitive touchscreen - following the modern trend of operating smartphones simply by touching the information on-screen. The display has a resolution quality of 720 x 1280 pixels making it ideal for watching videos, taking photographs and playing games.
The camera facility takes advantage of the screen's high resolution display, boasting 12-megapixels, with a secondary lens of 2.1 megapixels. The photos can be easily stored on the handset's 32GB of storage and this is supported by a 2GB RAM memory.
The Samsung Galaxy Alpha has other modern features such as a fingerprint sensor and a heart-rate sensor. All of these functions can be used easily and without having to charge the phone too often, as the battery has up to 350 hours of stand-by (on 3G), up to 11 hours of talk time (on 3G) and up to 37 hours of music playback.
---
You are viewing:
Samsung
Galaxy Alpha