Sell My
Samsung Galaxy Note 2 / II N7100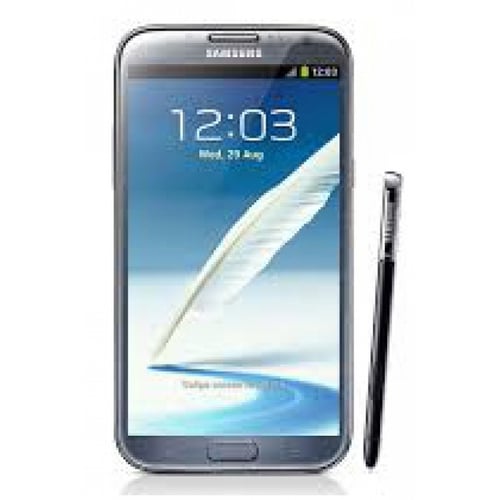 Sell your Samsung Galaxy Note 2 / II N7100 with OnReycle and get the most money. We compare all major phone recyclers in seconds.
Payment

Recycler

Price

Freepost

Sameday

Period

Methods

User Rating

Sell Now

Loading recycler prices...
---
Samsung's trading history spans a long and successful lifetime. Founded in 1938, they could scarcely have believed that they would become a multinational conglomerate, with their own major office park entitled 'Samsung Town.' The size of the organisation has certainly come a long way since it began selling fish, fruit and vegetables to China.
During the 1960's, Samsung became well-known in the world of electronics. Their products are on the shelves of most top electronic stores today and their name has become synonymous with quality and innovation. This is particularly true in the mobile telecommunications industry within which they expanded their brand during the 1990s.
Since that time, the evolution of mobile phone technology has progressed exponentially. Customers now expect the latest technology with the most stylish handsets as soon as the designs are available. Every year billions of mobile phones are sold around the world, and a good proportion of these are Samsung products. Due to the ever-changing technology and new models, however, old phones become almost obsolete and end up gathering dust at home. One example of this is the Samsung Galaxy Note 2.
The Note 2 was released in 2011. The latest product from the 'Note' series is to be the 8.0 tablet - announced in 2017. This gives you some idea of the speed with which Galaxy Notes are updated. When newer models are released, older models decline in value. As consumers, it makes good sense to look for a buyer for your older device soon after this happens.
---
About OnRecycle
OnRecycle are a company who are here to address all of your sales needs. When it comes to selling phablets such as the Samsung Galaxy Note 2, we know the circumstances that both buyers and sellers operate with, and have become experts at addressing the needs of both parties. We spent years forming relationships with buyers so that we could create a platform for customers to sell their Samsung Galaxy Note 2, quickly and easily. If you are interested in receiving a free, no obligation quotation, use our system and you could find a seller for your Samsung Galaxy Note 2 within minutes.
---
How The System Works
When you arrive on our website, you will notice a search bar that appears at the top of each page. Enter the words 'N7100' (another name for the phablet) and the page will update to require some further details about your specific device. We need to know the condition of the phablet (either new, working or broken), the version (either 16, 32 or 64GB models) and the network it is locked to (if any). This enables us to know which recyclers are interested in your phablet, and how much they are willing to pay. Rest assured that even if your Samsung Galaxy Note 2 is broken, many recyclers are still willing to pay a fantastic price to take it off your hands.
Having entered these details, you are now provided with a list of recyclers who are keen to purchase your Samsung Galaxy Note 2. You can select any of these recyclers to sell to, but before you do, we recommend that you think about a few important factors.
The price column is probably the one which is most closely looked at. Filter by this column to bring the company that'll pay you the highest price to the top of the list. In addition to price, however, we suggest that you think about how reliable the recycler is, for example? The 'user rating' column will give you a good idea about this, based on previous seller experiences. You might also want to take some time to read user reviews, to ensure that you are not left disappointed when selling your Samsung Galaxy Note 2.
If you are in need of cash urgently, we suggest that you filter the information by the 'payment period' column. This tells you when you can expect to receive payment for your Samsung Galaxy Note 2, so that you can begin to think about the next phone or tablet you are going to purchase.
Once you have decided on a buyer, you are ready to click on the 'sell now' button and complete the final part of the process. When you do so, you may be given the option to sell through the OnRecycle system. Selling through OnRecycle enables you to take advantage of our secure payment system and receive our expert advice, should you need it.
Now that you have sold your Samsung Galaxy Note 2, you are ready to choose your next device. Have a read of our brief review below, so that you can see how your next potential purchase compares.
---
The Samsung Galaxy Note II / N7100
Released in 2012, the Samsung Galaxy Note 2 is known as a 'phablet' - a cross between a phone and a tablet. It is called this because of the device's dimensions: 5.95 x 3.17 x 0.37 inches. The Samsung Galaxy Note 2 weighs 183 grams and has a super AMOLED capacitive touchscreen which measures 5.5 inches.
The display has a resolution of 720 x 1280 pixels, which shows off the device's 8-megapixel camera. The Samsung Galaxy Note 2 also has a secondary camera which is an impressive 1.9-megapixel standard.
The phone operates, initially, from the Android 4.1.1 Jelly Bean operating system. This is, however, upgradable to 4.4.2 (Kit Kat). The phablet comes in three versions, either 16, 32 or 64GB models, supported by the its 2GB RAM. The Samsung Galaxy Note 2 is available to buy either in amber brown, ruby wine, pink, blue, marble white or titanium gray.
---
You are viewing:
Samsung
Galaxy Note 2 / II N7100