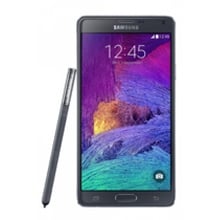 Sell My
Samsung Galaxy Note 4
for the best price online
Sell your Samsung Galaxy Note 4 with OnReycle and get the most money. We compare all major phone recyclers in seconds.
Is your phone locked to a network? If so, please choose a network below:
Unlocked
EE
Orange
T-Mobile
Three
Vodafone
O2
Tesco
Virgin

Lyca Mobile

Giff Gaff
Payment

Recycler

Price

Freepost

Sameday

Period

Methods

User Rating

Sell Now

Loading recycler prices...
---
Selling your Samsung Galaxy Note 4
Released in October 2014, the Samsung Galaxy Note 4 has since been upgraded by subsequent models, and the Samsung Galaxy Note 8 is rumoured to be released later on this year. As a result, the Note 4 is unlikely to be on the top of anyone's wish list for 2017. However, if you have a Samsung Galaxy Note 4, and you are considering selling it, or at least finding out how much you might be able to receive for the phablet smartphone, OnRecycle can provide you with a fantastic price for your unwanted device. Whether your phone is new, used or even broken, many recyclers are still willing to pay you a good price. Due to rapidly-changing technology, the sooner you are able to cash in on your Galaxy Note 4, the higher the price you are likely to receive. If you wish to upgrade, switch to a different manufacturer's product or have the need to raise cash quickly, OnRecycle can link you to the buyer that you need, quickly and easily.
Who Are OnRecycle?
With over 6 years of experience in the e-commerce industry, OnRecycle are experts when it comes to finding you the best prices for your unwanted mobile goods. Due to our ability to form and maintain effective working relationships with some of the major online recycling companies from around the world, we will allow you to take advantage of the database we have built, to give you access to the best prices around. We operate in a similar style to many price comparison websites available online, as we give you access to a buyer's quotation in minutes. However, where we differ, is that we save you the hassle of creating a user account and password in order to get started. Simply inform the website which device you need a price for, and it appears instantly. This means that you get what you need without worrying about all of the junk emails that you might receive!
How OnRecycle Works
When you have typed in the device that you wish to sell, you are then presented with some new options. Match your Samsung Galaxy Note 4 with the options that appear, and you will be sent to another screen where you can inform the website if your device is new, working or broken, and then state if it is locked to a specific network. Having done so, the page will automatically update with a list of potential buyers. It couldn't be simpler!
When you are choosing from our wide range of buyers available, we recommend that you consider a few factors, rather than simply agreeing to sell to the one offering you the highest price. If you are in need of cash urgently, for example, it is worth checking how quickly the buyer will pay you. Or, if you want to receive payment in a certain way, we would recommend that you check the payment method from your choice of buyer. You should also ask yourself how much you trust the company that you wish to sell to. Have you heard of them before? Have you reviewed the buyer ratings online (there is a star rating next to each buyer to help with this)? Furthermore, have you read the reviews from other people who have sold to them in the past? Unfortunately, as with many industries, some of the buyers will be illegitimate. We therefore recommend that you consider the above questions, prior to making an agreement to sell.
Once you have chosen a buyer, you are ready to click on the 'sell now' button, on the right-hand side of the page. You will then be directed either directly to the recycler's website, or another page which gives you the option to sell through OnRecycle. If you choose this option, you can be safe in the knowledge that you have a safe and secure checkout, and will be assisted by OnRecycle along every step of the way.
About The Samsung Galaxy Note 4
The Note 4 is a 'phablet' (phone / tablet) which was released by Samsung Electronics in October 2014 as the successor to the note 3. It comes with a 5.7 inch display, the quality of which is 2560 x 1440 QUAD HD. Surrounding the phablet is a 2.5D damage resistant case, which provides protection against a range of damage types. The Note 4 also has a plastic, faux leather back, giving it a stylish appearance and quality.
There are two different types of processors available on the Note 4: one has a 1.9 GHZ processor, and the other a 2.7 GHZ processor. It has an impressive 'fast charge' function which Samsung state enables the phablet to be charged from 0% battery to 50% battery in around 30 minutes. This is likely to delight many owners, as charging batteries can be extremely time consuming! Samsung also state that it takes around 100 minutes for the phablet to go from 0% battery life to 100%, which is quicker than many alternatives.
The Note 4 has an impressive array of applications and features. It has a heart-rate monitor in addition to an Oximeter, which measures oxygen saturation. The phone also has a stylus pen which offers alternative functionality when operating the device. The device comes complete with Google's 'Android' operating system, prompting users to link the product's features with a well-established, reputable company.
The Note 4's camera comes with an impressive 16 MP main, rear-facing camera. The secondary, front-facing camera, is 3.7 MP. It also has a 4k video recording facility, and 120 fps slow motion video recording function in 720p resolution.
If you have a Samsung Galaxy Note 4 and are considering changing to another manufacturer, upgrading to a later model, or wish to sell your device for financial reasons, OnRecycle can help you with this process. Obtain a quote today, to help us link you to a potential buyer. We have done the hard work, so that you don't have to!
You are viewing:
Samsung
Galaxy Note 4
up to the price of:
£156.50