Sell My
Samsung Galaxy Note 4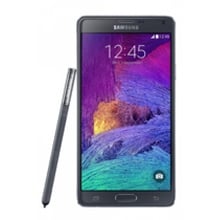 Sell your Samsung Galaxy Note 4 with OnReycle and get the most money. We compare all major phone recyclers in seconds.
Payment

Recycler

Price

Freepost

Sameday

Period

Methods

User Rating

Sell Now

Loading recycler prices...
---
Samsung's extensive trading history dates back to 1938, when the company was founded in Seoul, South Korea. Initially, the company traded in fish, fruit and veg - at which time the company could surely not have predicted it would end up being one of the most prominent companies in South Korean culture! In addition to food, the Samsung brand has also been associated with insurance, textiles, securities, retail, and, more famously, for consumer electronics and smartphones.
Since the 1990s, Samsung have been one of the leading players in the smartphone industry and regularly release new devices in keeping with customer demand. In addition to smartphones, they have also designed and manufactured phablets: devices that are slightly bigger than regular mobile phones, but slightly smaller than tablets. The rate at which these are released is similar to the rate at which the Samsung smartphones are released. As a result, Samsung are quick to upgrade and release the next version, complete with the newest technology, leaving older phablets behind.
One such phablet is the 'Samsung Galaxy Note 4,' released into the market place in 2014. The fact that, in 2017, the 'Note 8.0' is due to be released, gives you some idea of how quickly the phablets are updated! As time ticks on, older devices such as the Samsung Galaxy Note 4 lose their value, so it could be a good idea to trade yours in for cash as soon as possible. If you are interested in seeing the prices recyclers are willing to bid for your Samsung Galaxy Note 4, you've come to the right place.
---
About OnRecycle
OnRecycle work with many of the biggest online recyclers to get consumers the best price possible for their Samsung Galaxy Note 4. We know what it's like to be left with a piece of technology that has long been superseded by more recent models. However, we also know that there are many companies around the world willing to pay a great price for those older models. OnRecycle can link you to those recyclers quickly, easily and with the reassurance that you are trading with industry experts.
---
The OnRecycle System
When using OnRecycle, you will not be asked for any personal details whilst going through the quotation stage. This means that if you are only interested in obtaining a quick quotation, you can do so quickly and easily, safe in the knowledge that you will not be pursued aggressively on the phone or via email.
The OnRecycle system is incredibly easy-to-use. Simply click on the search box (located at the top of any of our pages) and enter the details of your product - in this case, the Samsung Galaxy Note 4. The device will then appear in a dropdown box, simply click on this to proceed.
The next step is to give us more specific details about the Samsung Galaxy Note 4 that you have. We need to know which network the device is locked with (if any), and the condition that it is in. Rest assured that, even if your Samsung Galaxy Note 4 is broken, there are still recyclers out there who will offer you a fantastic sum of money for it!
Once we know these details, we can provide you with the information you are looking for. The system will refresh, giving you the names of the recyclers and the prices they are willing to pay to take your Samsung Galaxy Note 4 from you. At the top of the list, you will notice some OnRecycle recommendations; these are companies who we are confident will give you a smooth selling experience.
Sort the data by either 'price,' 'payment period' or 'user rating' - depending on your priorities. Naturally, you want to receive a great price for your Samsung Galaxy Note 4, however rather than just concentrating on the 'price' field, we do recommend that you look at the others - especially the 'user rating' column.
The user rating field gives you a star rating for each recycler, based on reviews left by consumers who have been in a similar position to yourself. This means that you are able to take advantage of their experiences to find a reputable company that you are able to trust. Take the time to read some of the reviews left by these previous sellers to give you complete peace of mind.
Once you have chosen your recycler, you are ready to sell. Click on the 'sell now' button, on the right-hand side of their name, and you will be guided through the remaining steps. If you are offered the option, we recommend that you sell through OnRecycle, as you will be able to take advantage of our expert advice and guidance, in addition to selling through a secure payment system.
Once you have received the money, you can start to look around for your next gadget. Here is our brief review of the Samsung Galaxy Note 4, so that you can compare your next purchase with this device.
---
Samsung Galaxy Note 4
The Note 4 was released in 2014. It is a phablet that is 8.5mm thick and weighs 176 grams. The display measures 5.7 inches and has a super AMOLED capacitive touchscreen functionality. The screen's resolution is 1440 x 2560 pixels, giving it a good quality picture.
This picture is capable of displaying some high-quality photographs which can be taken from the Samsung Galaxy Note 4's 16-megapixel camera (with a secondary 3.7MP camera). These can be stored on the phone's 32GB storage, which can be extended to 256GB via a micro SD card. The Samsung Galaxy Note 4 is available to purchase in frosted white, charcoal black, bronze gold or blossom pink.
---
You are viewing:
Samsung
Galaxy Note 4
up to the price of:
£5.00