Sell My
Samsung Galaxy Note N7000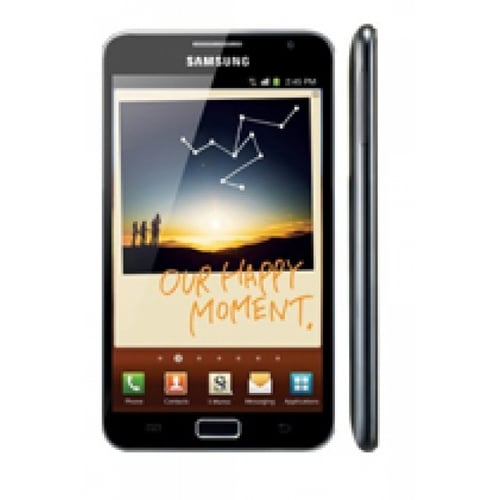 Sell your Samsung Galaxy Note N7000 with OnReycle and get the most money. We compare all major phone recyclers in seconds.
Payment

Recycler

Price

Freepost

Sameday

Period

Methods

User Rating

Sell Now

Loading recycler prices...
---
Based in Seoul, South Korea, Samsung's reputation has made it one of the most popular manufacturers of consumer electronics and smartphones in the world. Whenever Samsung announces a new product launch, it is met with delight, as consumers know that they will receive a product of the highest quality.
The industries that Samsung have traded in are numerous. They started off selling fish, fruit and vegetables to China, but are much better known for their work in consumer electronics and smartphones. In one of the most competitive marketplaces of any industry, Samsung prove time and time again, that they have the ability to compete.
With each new product that releases however, the value of older products become reduced. One device which has felt the impact of this is the Samsung Galaxy Note N7000. When it was released in 2011, everyone wanted it. Now that the 'Note 8.0' is due to be released, it has been almost forgotten! That said, there are still a number of recyclers who are prepared to pay a fantastic price for the Samsung Galaxy Note N7000. If you have one and are interested in selling it, OnRecycle can help.
We have spent years cultivating relationships with major online recyclers, to pair consumers with people who are passionate about buying their devices from them. We know what it is like to be busy in today's world, and how stressful it can be to shop around, trying to find a buyer who will give you a fair price for what you have to sell. OnRecycle recognised this and decided to produce a system that makes it easier for the consumer.
---
Samsung Galaxy Note N7000
The Note N7000 was released in 2011, amongst strong opposition from other competitive phablets and smartphones. The device weighs in at 178g and has dimensions of 146.9 x 83 x 9.7 mm. The screen itself is 5.3 inches long and it has super AMOLED capacitive touchscreen functionality - a standard for many modern smartphones and tablets. The resolution of the screen is 800 x 1280 pixels which makes viewing videos, browsing the internet and playing games immersive and entertaining.
The Note N7000 operates through Android 2.3.5 (Gingerbread) when it is purchased, but it is possible to upgrade to Android 4.1.2 (Jelly Bean). The device comes with initial storage sizes of either 16 or 32GB, though it is possible to extend this by up to 64GB through a micro SD card. The storage is supported by 1GB RAM.
The Note N7000 has a camera complete with 8 megapixels and a secondary camera of 2 megapixels. It has a stereo FM radio and the capability to play MP3 and MP4 files. It has a good battery life, boasting a stand-by time of up to 820 hours (3G) and a talk time of up to 13 hours and 30 minutes (3G). The Note N7000 is available to buy in pink, black or white.
---
The OnRecycle System
When you arrive on our website, you will notice that there is a search bar at the top of every page. Enter the details of the device that you wish to sell into this search bar (in this case, the Samsung Galaxy Note N7000) and a list of relevant products will appear. Click on the product that matches your Samsung Galaxy Note N7000 and you will be taken to the next page.
At this stage, we need to know the version of your Samsung Galaxy Note N7000, (either 16 or 32GB) in order to retrieve your quotations. We also need to know the network that your Samsung Galaxy Note N7000 is locked to (if any) and the condition of the phablet. All of this will enable us to get the most accurate list of prices for you to choose from.
Once you have selected the network, condition and version of your Samsung Galaxy Note N7000, you are ready to move on. You will notice that the screen has now updated, giving you a new list of recyclers and the prices they will pay you for your phablet. You may be surprised at how much you can receive for a Samsung Galaxy Note N7000! Now is the time for you to choose the recycler that best meets your requirements.
When choosing a buyer, it is tempting to select the one who offers you the largest price for your Samsung Galaxy Note N7000. However, we suggest that you consider your recycler with caution. By filtering on the 'user rating' column, you can see how other consumers (similar to yourself) have scored the recycler. This is an important consideration, because you want to know that you are selling to a reputable provider who will pay you when they say they will (and for the promised amount). Take the time, not only to consider the star ratings awarded, but to read some of the reviews left by previous sellers.
Once you have chosen a seller, you can proceed to the next step. Click on the 'sell now' button which is on the right-hand side of the screen (be sure to select the one next to your choice of recycler!) and follow the steps to complete your sale. If you are given the option to sell your Samsung Galaxy Note N7000 through OnRecycle, we suggest that you do this as you will be able to benefit from our expert advice and guidance, as well as selling through our secure payment system.
Congratulations, your sale is now complete! Perhaps now may be a good time to look around for your next potential purchase? If so, read our brief review of the Samsung Galaxy Note N7000, so that you have something to compare future purchases with.
---
You are viewing:
Samsung
Galaxy Note N7000