Sell My
Samsung Galaxy S3 Mini I8190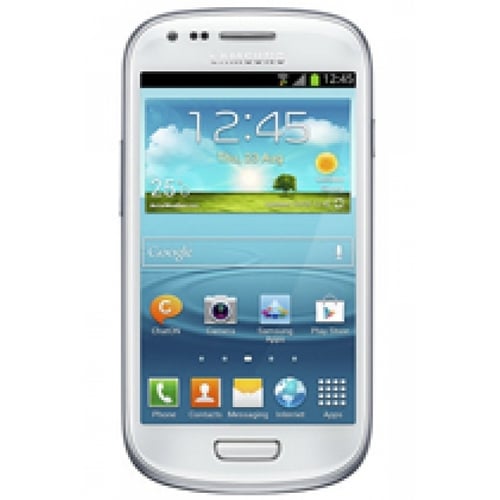 Sell your Samsung Galaxy S3 Mini I8190 with OnReycle and get the most money. We compare all major phone recyclers in seconds.
Payment

Recycler

Price

Freepost

Sameday

Period

Methods

User Rating

Sell Now

Loading recycler prices...
---
Samsung has been associated with industries such as textiles, securities, insurance and food processing in the past, but it is within the consumer electronics and mobile telecommunications industries where it is perhaps best known today. In the 1960s, as technology rapidly evolved, Samsung began to focus more on consumer electronics, focusing particularly on telecommunications during the 90s - an era that began to engage consumer's attitudes to mobile telephones.
Samsung is certainly, in part, responsible for today's rapidly evolving mobile phone technology. Each time a new mobile product is set to release into the marketplace, fans immediately begin to speculate on the exciting features and technology it will include. Although this constant development is good for technological progress, it can leave consumers with outdated devices pretty quickly! When the Samsung Galaxy S3 Mini was released 5 years ago, it was much sought-after. Now, however, its popularity has declined as buyers opt for newer smartphones.
There are many people who will still pay a fantastic price for the Samsung Galaxy S3 Mini. If you have one at home and no longer need it, or still use it but are desperately in need for an upgrade, OnRecycle can link you with a buyer and get you a fantastic price in the process.
---
Who Are OnRecycle
We have become experts at finding buyers for a range of mobile devices. We understand that when consumers are no longer in need of a product, they aren't sure what to do with it. Should it be sold, or thrown away? If they decide it should be sold, how do they find a buyer? Have they got the time to shop around, finding someone who will offer them a good price? Will the device even be worth anything? OnRecycle answers all of these questions, (and more) by providing a one-stop online location where you can obtain quotations immediately. We've done all the tedious 'shopping around' for you, so that you can simply enter your product details, and a quotation will instantly appear.
---
The OnRecycle System
When you arrive on our website, you will notice a search bar at the top of every page. This is where you enter the details of your phone (the Samsung Galaxy S3 Mini). As you type the words in, the product should appear in a dropdown list below. Click on the product and you will be transferred to the next page.
On this screen, we need to know a few more specific details about your Samsung Galaxy S3 Mini. Take your time to enter the phone's condition (either working, broken or new), the phone version (either 8 or 16 GB model), and then tell us whether the phone is locked to a specific network (and if so, which one). Once we have these details, we are ready to start producing the list of quotations.
As the screen refreshes, the list of recyclers appears. We are confident that you will be happy with the quotations that you receive. However, if you decide that you are not interested in selling your phone at this point, you are free to simply leave the process. The quotations provided do not leave you under any obligation to sell your phone, and as we have not taken any personal details from you, you will not be hounded with any sales calls or emails.
When choosing the right recycler, we suggest that you think carefully about who you are selling to. As with any industry, there are some recyclers who are less reputable than others. We have designed the system with you in mind, therefore you are able to search based on the 'user rating' field - this brings the recyclers who have the highest ratings to the top of the list. You can also click on the 'view reviews' button to read more from people who have already sold through the recycler you are considering. Remember that these people were all once in a similar position to you, so you want to find a recycler that has given them positive selling experiences.
Other fields that can be adjusted are the 'payment period' (the time it takes for you to receive the cash) and the 'price' column (the recycler who will pay the most). Although you may have your own set of criteria for selling, these are the ones we suggest you look at the most closely, to ensure you sell to a reputable company who offers you a good price. When you are ready, click on the 'sell now' button and follow the process on-screen to sell your phone and receive the cash.
Once you have sold your Samsung Galaxy S3 Mini, you are ready to browse the market for your next phone. When doing so, it can be useful to compare other models with the Samsung Galaxy S3 Mini you have just sold, so here is a brief review of it:
---
Samsung Galaxy S3 Mini
The Galaxy S3 Mini was released in 2012. It is known as a 'mini' because of its small dimensions (121.6 x 63 x 9.9mm) which give it a light weight (111.5 grams). The device has a 4-inch screen, with a super AMOLED capacitive touchscreen - a feature which has become a standard in today's smartphone market. The display's resolution is 480 x 800 pixels.
The device has a 5 megapixel camera with an LED flash. It has the capability of playing MP3 and MP4 files, and has a stereo FM radio.
Storage-wise, the Samsung Galaxy S3 Mini can be purchased either as an 8GB or a 16GB handset and both handsets come with 1GB RAM. The storage can, however, be extended by up to 32GB via the device's micro SD card slot - particularly useful when operating a phone with a relatively low internal storage. The Samsung Galaxy S3 Mini can be purchased in white, blue, titan grey, amber brown, garnet red or onyx black.
---
You are viewing:
Samsung
Galaxy S3 Mini I8190