Sell My
Apple iPad 3 WiFi 4G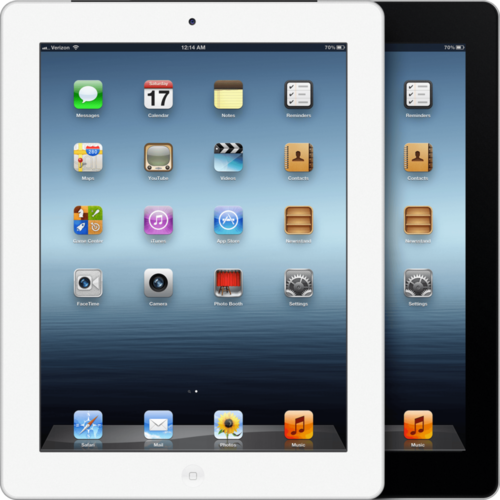 Sell your Apple iPad 3 WiFi 4G with OnReycle and get the most money. We compare all major tablet recyclers in seconds.
Payment

Recycler

Price

Freepost

Sameday

Period

Methods

User Rating

Sell Now

Loading recycler prices...
---
Apple products have become associated with terms like 'user-friendly,' and 'high-quality' since the company was found, back in 1976. The founders (Steve Jobs, Ronald Wayne and Steve Wozniak) could not have imagined how much Apple would grow, nor the types of technology that would make up their range of smartphones, tablets and other software. Apple have, for years, provided strong competition in a variety of industries, including consumer electronics, computer software and online services. The range of software they have released includes iTunes, iLife, Safari and iWork, and Apple and consumers alike have benefited from the regular updates on many of these products.
When Apple launches a new device into the marketplace, it is often met with excitement and anticipation. Apple's large following are keen to purchase brand new products, leaving their older devices unwanted. For example, the iPad 3 which was released in 2012 has already fallen behind subsequent models, and will continue to do so.
Keeping up with the latest technologies can be difficult and expensive. However, there are options available to help you do so. By trading in your old device for cash, you can receive money towards the newest device. If you are looking to trade in your Apple iPad 3, OnRecycle can help you.
---
Who We Are
We are a company who are passionate about finding homes for unwanted gadgets such as the Apple iPad 3. We work with some of the world's largest recyclers, helping them to find gadgets that they are prepared to offer a great price for, whilst providing sellers with a platform on which they can sell their Apple iPad 3. Our easy-to-use service can generate no-obligation quotations for your Apple iPad 3 almost instantly! Even the most non-technical of users love using OnRecycle.
---
The OnRecycle System
We know how time-consuming it can be to search the web, or phone around a long list of recyclers - in the hopes of finding a quality buyer for your Apple iPad 3. We have designed a system that allows you to find the information you are after, in just a few clicks. Simply type the name of your product (in this case the Apple iPad 3) into the search bar located at the top of the screen, and a list of relevant devices will appear in a dropdown list. Click on the one that best matches your Apple iPad 3 and you will be directed to a new screen.
When you are on this screen, you will be given a couple of grey boxes to check. To enable us to find a recycler who will offer you a price, we need to know the condition of your Apple iPad 3 and the version of it (16, 32 or 64GB). Once we have this information, we are ready to start matching you with a suitable recycler: one who will offer you a fantastic price for your device, even if it is broken!
When the screen refreshes, the data that appears in front of you provides a series of details about each recycler. Though this can appear overwhelming, all of the information is there to help you make a decision on who you choose to sell to. Do not feel under pressure to sell, however, as at this stage you are still under no obligation to sell, and the quotations will not cost you anything. And as we have not taken any personal details from you, you will not be contacted by sales calls or emails.
The fields of information that we suggest you pay close attention to are the 'user rating', 'price' and 'payment method' columns. The star ratings you see are calculated as a result of the number of complaints each recycler has received per 100 orders. The higher the star rating, the less complaints they have received and, therefore, the more positive your experience is likely to be when selling your Apple iPad 3 through them.
The price column tells you how much you are being offered, and the payment period and method columns tell you how quickly payment will be made, and by what form (e.g. cheque, bank transfer). This will help you to determine who best to sell your Apple iPad 3 to, in relation to your personal circumstances.
Once you have chosen a recycler, you are ready to sell your Apple iPad 3. Click on the 'sell now' button (at the end of the row of data next to your buyer) and follow the remaining steps to complete the sale. If you are offered the choice to sell through OnRecycle, we suggest that you take this option as you will benefit from our advice and guidance, whilst providing details through a secure payment system.
When you receive the cash, you may be looking around for a newer device to invest in. Read our review of the Apple iPad 3, so that you have something to compare your next purchase with.
---
Apple iPad 3
The iPad 3 was released in 2012. It has dimensions of 241.2 x 185.7 x 9.4 and weighs 652 grams. It has a screen which measures 9.7 inches. The display has a resolution of 1536 x 2048 pixels, which made it one of the best screens on the market when it was released. The screen has 'scratch-resistant' glass, which proves that Apple place their consumers at the heart of their design process.
The Apple iPad 3 is available to buy in either 16GB, 32GB or 64GB models. Each one is supported by 1GB of RAM. The storage facility saves photographs taken from the device's 5 megapixel camera which has geo-tagging, touch focus and face detection facilities.
The Apple iPad 3 is capable of playing both MP3 and MP4 files and also has a document viewer. In terms of the tablet's battery, it has up to 720 hours of talk time and up to 10 hours of stand-by. The Apple iPad 3 can be purchased in either black or white.
---
You are viewing:
Apple
iPad 3 WiFi 4G
up to the price of:
£44.70