Sell My
Apple iPad Air 2 WiFi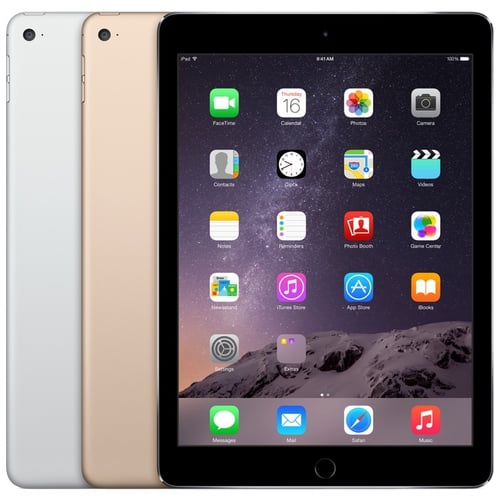 Sell your Apple iPad Air 2 WiFi with OnReycle and get the most money. We compare all major tablet recyclers in seconds.
Payment

Recycler

Price

Freepost

Sameday

Period

Methods

User Rating

Sell Now

Loading recycler prices...
---
Apple need very little introduction to fans and consumers of mobile phones and gadgets. Since they were founded in 1976, the American multinational technology company has become a household name around the world, and each year, consumers queue for hours to wait for the latest device that Apple decides to release.
The devices Apple has designed and manufactured since its formation include the iPad, iPhone, iMac and the iPod. No matter which device is due to release, consumers know that it will be of a high quality and contain the best use of modern technology. And due to the software that Apple products utilise, (also designed and manufactured by Apple) consumers also know that the devices will be user-friendly.
As Apple continue to release products, older devices lose value. This is the natural cycle for electronic goods and, as technology evolves at such a fast-pace, it is likely to continue for the foreseeable future. As such, there may not be any better time to trade in models such as the iPad Air 2 - whilst they still hold a large resale value. If you have an iPad Air 2 and are looking to cash in on it, contact OnRecycle today.
---
What We Do
OnRecycle work with some of the biggest online recyclers around the world. When you are looking for a price for your iPad Air 2, we are able to link you with a suitable buyer within minutes. We understand the needs of the consumer, and believe that consumers are entitled to sales data instantly. That is why we have created a system - that works in a similar way to many other price comparison websites - to give you this information after just a few clicks.
---
The OnRecycle System
When you use the OnRecycle system, you will not need to provide any personal information whilst receiving a quotation. We understand how annoying (and harassing) it can feel to be bombarded by emails and sales calls - this is why we give you the quotation without taking the details. The quotation is provided free of charge, and at no stage (during the quotation process) will you be under any obligation to sell. You can walk away whenever you like.
When you wish to receive a quotation for your iPad Air 2, enter the details into the search bar at the top of the page. This will bring up a list of relevant products - simply select the one that resembles your iPad Air 2 the best. When you have done so, you will be asked for a few more details before the quotations can be generated.
We need to know the version of the iPad Air 2 that you are selling (either 16, 64 or 128GB). Amend the blue boxes so that the dot appears in the correct place. On this screen, we also need to know the condition that your iPad Air 2 is in, so that we can return an accurate list of recyclers who are interested in your device - and how much they are prepared to pay for it.
Having filled in these details, the screen will refresh and the list of recyclers will update. This is the list you will use in order to find the best buyer for your iPad Air 2. The order of the data can be changed via the 'price,' 'payment period' and 'user rating' columns, to suit your specific requirements. Simply click on the arrows next to each field to reorganise the data.
When you are choosing a recycler, we suggest that you look at a few factors closely. Although it can be tempting to immediately choose the recycler offering you the most money, we want you to have a positive sales experience, so we would advise considering the reputability of the company - as well as the price. The OnRecycle system gives you access to the handy star rating system - calculated by the number of complaints received by the recycler, per 100 orders. Alongside this, there is the option to read some of the reviews left by previous sellers like yourself (click on the 'view reviews' link to see these).
Once you have made your decision, you are ready to sell your iPad Air 2. Click on the 'sell now' button and you will be guided through the remaining steps in the sales process. If you are offered the option to sell your iPad Air 2 through OnRecycle, we suggest that you do this as you will benefit from our expert advice and guidance, whilst paying through a safe and secure system.
When you have received the cash, you are ready to shop for a new tablet. In order to do this, you may like to compare potential purchases with the iPad Air 2 you have just sold. Here is our review of it:
---
iPad Air 2
The iPad Air 2 was released in 2014. It is the second in the 'Air' series, being slightly smaller (240 x 169.5 x 6.1mm) and lighter (437 grams) than the original iPad Air. The device is known for its light and small dimensions, and because of this, it is comfortable to transport and use.
The iPad Air 2 has a 9.7-inch display, and an LED-backlit IPS LCD capacitive touchscreen. It also has a pixel rating of 1536 x 2048, the same as the original Air device. It operates through iOS 8.1 when purchased, though this can be upgraded to 10.3.
In terms of the different size versions available, the iPad Air 2 can be bought either as a 16, 32, 64 or 128 GB model. Each of the devices is supported by 2GB of RAM. It has a fingerprint sensor, and can play MP3 and MP4 files. The device can be purchased in silver, space grey or gold.
---
You are viewing:
Apple
iPad Air 2 WiFi
up to the price of:
£109.50