Sell My
Apple iPad Mini 1 WiFi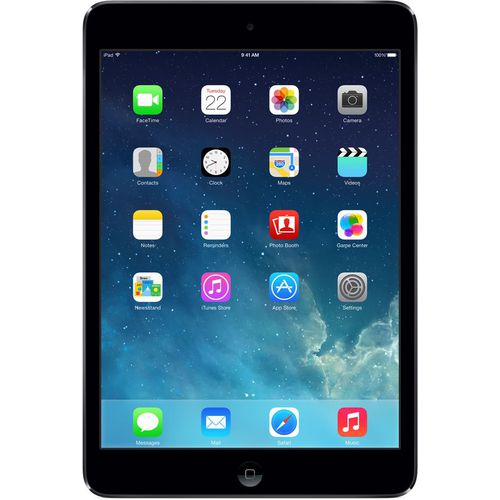 Sell your Apple iPad Mini 1 WiFi with OnReycle and get the most money. We compare all major tablet recyclers in seconds.
Payment

Recycler

Price

Freepost

Sameday

Period

Methods

User Rating

Sell Now

Loading recycler prices...
---
Apple are one of the biggest technology companies in the world. Residing at their headquarters in California, the multinational organisation has become synonymous with quality products all over the world, whether in computer software, online services or consumer electronics. When Steve Jobs, Steve Wozniak and Ronald Wayne founded Apple in 1976, they could not have believed that Apple would reach the heights that it has, and that it would eventually lead them into the world of mobile telecommunications - including tablet devices, mobile smartphones and smartwatches.
When it comes to tablets, there are a huge range of iPad products for customers to choose from, and because they are upgraded so frequently, newer models are a much more technically-enhanced than the very first products on the market. Whilst it is nice to be able to upgrade regularly, it is not-so nice to fork out the price for a new model each time they are released. Luckily, OnRecycle are here to help you achieve this.
Older Apple products (such the iPad mini) are often replaced with newer models. One might think that the value of the iPad mini will have completely diminished - however, there are still people who are interested in buying them from consumers. Once more, OnRecycle are here to provide you with the answer.
---
What We Do
We work as the middle man between seller and buyer, to get both parties what they need. If you are looking for a buyer for your iPad mini, we know just the recyclers who will pay you a great price for the tablet, since we have spent years forging relationships with them. Not only does OnRecycle provide you with an easy-to-use platform upon which to find a fantastic buyer, but we can ensure that the prices you are offered are fair, thanks to the competitive nature of the recycling industry. The data is clearly presented to you, so that you can identify the perfect recycler for you.
In much the same way as any price comparison website works, OnRecycle provides you with information about a large number of recyclers - after recording some initial information about the iPad mini that you wish to sell. During this process, we do not record any personal data from you which means that you will not be bombarded by aggressive sales calls, nor will you receive emails chasing you to sell your tablet.
---
The OnRecycle System
When you log on to our website, you will notice a search box that appears at the top of the screen. Simply enter the details of your tablet (e.g. 'iPad mini') and a list of relevant products will appear. Click on the product that best suits your iPad mini to progress to the next stage.
On this page, we need a few more details before we can obtain the information you are after. Tell us the condition of your iPad mini, (even broken devices can receive a fantastic sum of money!) the network it is locked with, and the version (either 16, 32 or 64GB). This information will help us to provide you with an accurate list of quotations.
Once the screen refreshes, you can see which recyclers want your iPad mini. The list shows you the name of the recycler, the amount they will pay and various other (and rather useful!) information. When making a decision on which recycler to trade with, we recommend that you consider a few factors - this will determine how positive your overall sale experience is.
One of the factors is the reputability of the recycler. Our system allows you to rearrange the data in accordance with the recycler who has the highest star rating. These stars are calculated as a result of the number of complaints received per 100 orders on OnRecycle. Click on the arrows that appear next to the 'user rating' column and the data will be arranged with the best rated recyclers at the top. In addition to the star ratings, we suggest that you take the time to read some of the reviews left by previous customers. This can be done by clicking on the 'view reviews' link.
We also suggest that you consider the 'price' field (which we are sure you would naturally do anyway!) and the 'payment period' fields. These sets of data tell you who will pay the highest price, and how quickly they will do so. This will be of particular importance to you if you are after a quick sale.
Once you have chosen a recycler, click on the 'sell now' button and you will be directed through the rest of the process.
Once you receive payment, you may want to shop around for your next tablet. Read our review of the iPad mini to compare your next purchase with:
---
iPad Mini Wi-Fi
The iPad mini (Wi-Fi) was released in 2012. When purchased, it comes with iOS 6 operating system, which can be upgraded to 9.3.5. It is available to buy as either a 16GB, 32GB or 64GB model and comes in black/slate or white/silver.
The mini has dimensions of 200 x 134.7 x 7.2 mm (hence the 'mini' description!) and weighs just 308 grams. It has a 7.9-inch display with a resolution of 768 x 1024 pixels; it also has an LED backlight with IPS LCD capacitive touchscreen. The mini has a 5 megapixel camera with a secondary lens of 1.2-megapixels and has Siri, MP3 and MP4 functionality. The battery has up to 10 hours of (multimedia) talk time.
---
You are viewing:
Apple
iPad Mini 1 WiFi
up to the price of:
£25.50