Sell My
Apple iPad Mini 3 WiFi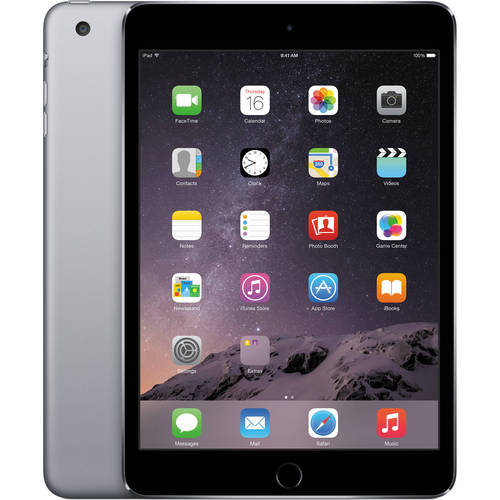 Sell your Apple iPad Mini 3 WiFi with OnReycle and get the most money. We compare all major tablet recyclers in seconds.
Payment

Recycler

Price

Freepost

Sameday

Period

Methods

User Rating

Sell Now

Loading recycler prices...
---
Apple was set up by Steve Wozniak, Steve Jobs and Ronald Wayne back in 1976. Since that time, the company has transformed the world of consumer electronics, producing a series of phones, gadgets and tablet computers that have 'wowed' the world with their innovative technology and stylish designs. The Apple brand has become synonymous with the word 'quality' - these are products that are easy to use whilst remaining at the top of the technological specifications associated with the period in which they are released. The iPad range of tablets, for example, is one that consumers love for being user-friendly.
In order to continue utilising the technology of the day, Apple have to regularly release new, upgraded devices. When doing so, it is only natural for the price of older models to reduce in value, as there is more demand for newer iPads, and less for older. Items such as the iPad Mini 3 (released in 2014) will, therefore, continue to decline in value as newer models come out. As a result, now could be a good time to cash in on your iPad Mini 3, and OnRecycle are here to help with this.
---
About OnRecycle
We have spent years building relationships with some of the world's largest online recyclers. As a result, we recognise and understand the needs of both consumer and recycler. This has enabled us to build a system which gives consumers the information they are after (the seller's details, and the price they are prepared to pay), whilst providing recyclers with access to sellers of the iPad Mini 3. The system we have built works in a similar way to many other price comparison websites. Where OnRecycle differ, however, is that we do not take any personal details from you whilst you are obtaining a quotation. This helps you to avoid persistent sales calls and emails, from us or any third parties.
---
The OnRecycle System
When you use the OnRecycle system, you can expect to receive a user-friendly service that provides you with the quotations for your iPad Mini 3 in just a couple of minutes. Simply type the device that you wish to sell in to the search bar at the top of the page, (in this case, the iPad Mini 3) and a list of related models will appear in a dropdown list. Select the one that matches the iPad Mini 3 you are selling, and you will be taken to the next page.
At this stage, we need to get a few more details in order to generate an accurate list of quotations. Enter the condition of your iPad Mini 3 (from options of 'working,' 'broken,' or 'new') and tell us which version of the tablet you are wishing to sell (either 16, 64 or 128GB models). Once you have done this, the screen will update and the table of data gives you the information you'll need to find the right recycler for you!
When you are choosing a recycler, we suggest that you consider a few factors. One of these is the payment. Not only should you look for a recycler offering you a fantastic price (see the 'price' column), but we encourage you to think about how that payment will be made (cheque, bank transfer, etc.) and how quickly it will be made. If you are after cash urgently, you may prefer to choose a recycler who pays quickly, but offers a slightly lower price to the others.
Another factor to consider is the reputability of the recycler; we want you to have a positive sales experience. Look at the 'user rating' column to determine what other customers (who were once in a similar position to yourself) have experienced when working with the recyclers. The star rating system gives you an idea of which ones are the most trustworthy: those with the highest number of stars are the best to use (they have the fewest number of complaints per 100 orders). We also recommend that you take the time to read some of the reviews left by previous customers (click on the 'view reviews' link), so that you can get a better feel for each recycler.
Once you have chosen a recycler, you are ready to complete your sale. Click on the 'sell now' button and follow the remaining steps in order to do so. If offered the option, choose to 'checkout on OnRecycle' as this gives you access to our guidance during the process (if required). You will also be selling through a safe and secure payment platform on OnRecycle.
Once the money is in your account, you can now start shopping for your next gadget. Here is our brief review of the iPad Mini 3, so that you have something to compare your next potential purchase with.
---
iPad Mini 3
The iPad Mini 3 was released in 2014, a year after the iPad Mini 2 was launched. It has dimensions of 200 x 134.7 x 7.5 mm and weighs 331 grams. The Mini 3 is, therefore, a small, lightweight product which is easy to transport, and comfortable to use.
The device has a 7.9-inch display, which has a good quality spec: 1536 x 2048 pixels. This makes it a good screen for watching movies, playing games and browsing the web. It also gives users an attractive experience when viewing photographs and videos taken through the iPad Mini 3's 5 megapixel camera (which has a secondary lens of 1.2 megapixels).
The device can be purchased as either a 16, 64 or 128GB model - each of these are supported by 1 GB of RAM. It comes with iOS 8.1, but this is upgradeable to 10.3.
In terms of other functions, the iPad mini 3 has a fingerprint sensor, Siri functionality, as well as playing MP3 and MP4 files. It comes in a range of colours: space grey/black, silver/white or gold.
---
You are viewing:
Apple
iPad Mini 3 WiFi
up to the price of:
£79.50