Sell My
Apple iPad Mini 4 WiFi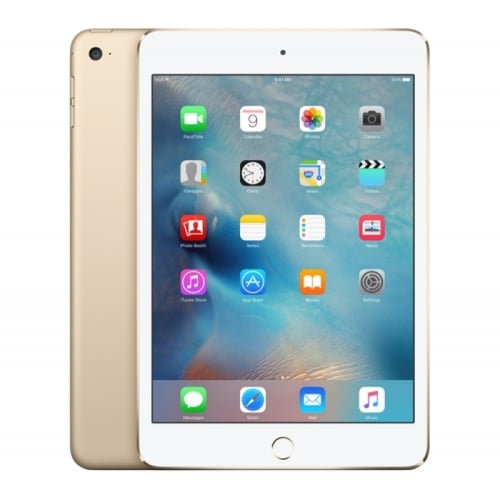 Sell your Apple iPad Mini 4 WiFi with OnReycle and get the most money. We compare all major tablet recyclers in seconds.
Payment

Recycler

Price

Freepost

Sameday

Period

Methods

User Rating

Sell Now

Loading recycler prices...
---
Apple are one of the largest brands of consumer electronics in the world, and a brand known to virtually every household in Britain and America. Their range of information technology and consumer electronic devices have been produced since 1976 and each year, their latest gadget or mobile smartphone is released with anticipation around the world! People queue for hours to buy the latest Apple products, and this has enabled Apple to enjoy customer loyalty on a huge scale.
Whether it be the latest iPhone, iPod or iPad, customers know that the newest device will be user-friendly and designed to a high spec. In making their products easy-to-use, Apple ensure that quality is never jeopardised - perhaps one of the main reasons why they are so popular. In order to keep ahead of the game, however, Apple need to launch new products regularly, and this means that older devices lose value quickly.
One such device is the iPad Mini 4. When it was released in 2015, it was one of the best on the market. Two years later, its value is likely to have decreased somewhat, and now could be the best time to cash in on it. If you have an iPad Mini 4 and are considering selling it, OnRecycle are here to help.
---
Who We Are
OnRecycle are a company who specialise in giving sellers of the iPad Mini 4 a platform on which to find a suitable buyer. We have spent years forming and maintaining working relationships with some of the world's largest recyclers, and this has enabled us to produce a system that links sellers with buyers quickly and easily. Knowing the needs of both parties, the OnRecycle system suits every user, and is incredibly easy to use. Even the least technical of users will enjoy receiving a quotation for their iPad Mini 4 in a matter of minutes!
---
The OnRecycle System
When you have made the decision to sell your iPad Mini 4, log on to the OnRecycle website, and enter the name of your product in to the search bar at the top of the page (the 'iPad Mini 4' in this case). Once you have done so, a list of related products will appear in a dropdown box. Select the one that most closely resembles your iPad Mini 4, and you will be taken to a new screen.
On this screen, we need to know the condition of your iPad Mini 4 and the version that you have. Entering this data honestly will ensure that you receive a list of accurate quotations that are most suited to the device you are selling. If you are worried that your device is broken, do not despair. Even iPad Mini 4's that no longer operate are still likely to be worth something to our recyclers, so they are often willing to pay a fantastic price for it!
When you have entered the details of your phone's condition and version, (either 16, 32, 64 or 128 GB models) you are ready to receive your quotations! The table of data will update, and you will see a selection of recyclers, along with a series of other information. Though this can look intimidating - do not despair! All of this information is there to help you make the best decision for you, and we will talk you through some of the key data.
The price column is likely to be of particular interest (it is only natural that you want to receive a fantastic price!). In addition to this, we suggest that you pay particular attention to the 'payment' and the 'user rating' columns.
The payment columns will give you information about the way in which you will receive the payment. Some people prefer to receive a cheque, whilst others are only interested if the payment is being made directly into their account. Furthermore, the time that it takes the recycler to pay you for your iPad Mini 4 is also likely to be of interest - especially if you are after fast cash.
The 'user rating' column should also be looked at in detail. The star ratings shown are made up of the number of complaints that the recycler has received, per 100 orders. The higher the number of stars, the lower the number of complaints. We want to ensure that you have the best possible experience when selling your iPad Mini 4, so we advise you to carefully consider this information! We also suggest that you read some of the user reviews (click on the 'view reviews' link) and perhaps take the time yourself to search the internet for other reviews, and even the company website.
Once you have chosen your recycler, click on the 'sell now' button and you will be guided through the rest of the process. When the money is in your bank account, you are ready to start shopping for your next device! It can be useful to know what the spec of the iPad Mini 4 is, (the one you have just sold) so that you know what to compare it with. Here is our brief review.
---
iPad Mini 4
The Mini 4 was released in 2015. It has dimensions of 203.2 x 134.8 x 6.1 mm and weighs only 299 grams. This makes it easy to transport and comfortable to operate.
The iPad Mini 4 has an LED-backlit IPS LCD capacitive touchscreen, which measures 7.9 inches. It has a pixel rating of 1536 x 2048 which plays high-quality movies and makes gaming fun and immersive! It has scratch-resistant glass to help with any accidents.
The iPad Mini 4 comes in either 16, 32, 64 or 128 GB models - each of which is supported by 2GB of RAM. It has an 8 megapixel camera and a fingerprint sensor, in addition to other functions such as Siri voice activation. The iPad Mini 4 comes in either space grey, silver or gold.
---
You are viewing:
Apple
iPad Mini 4 WiFi
up to the price of:
£97.50