Sell My
Sony Xperia Tablet S 3G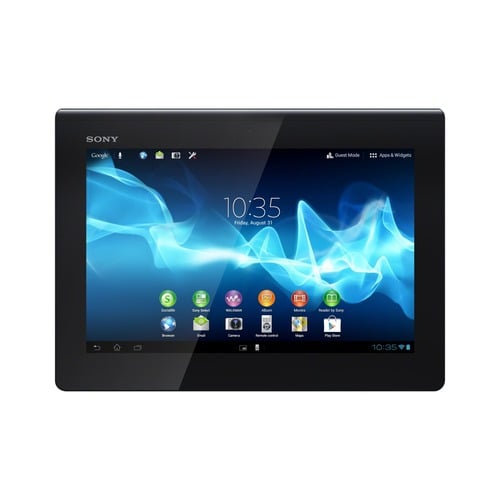 Sell your Sony Xperia Tablet S 3G with OnReycle and get the most money. We compare all major tablet recyclers in seconds.
Payment

Recycler

Price

Freepost

Sameday

Period

Methods

User Rating

Sell Now

Loading recycler prices...
---
Sony were founded in 1946 by Akio Moria and Masaru Ibuka. Shortly after World War 2 had ended, Ibuka opened up Sony's very first electronics shop within a department store in Tokyo. The brand name comes about as a blend of the words 'Sonnus' (the root of sonic and sound) and 'Sonny' (slang term for a boy).
The industries that Sony have become particularly well known within include consumer and professional electronics, financial services, entertainment and gaming. For the latter, the 'Sony Playstation' is one of the best-selling games consoles ever, and its regular upgrades keep it competitive. Elsewhere, Sony is also known for selling smartphones and tablet devices, such as the 'Xperia' series.
When Sony release new products (such as those within the Xperia series), the older devices quickly lose value. This is a natural part of the product cycle, but can be frustrating for consumers who own older devices, such as the Xperia Tablet S 3G. Unbeknown to many customers, however, there is a solution available, and OnRecycle are able to provide this.
---
What OnRecycle Do
OnRecycle work with many of the world's biggest online recyclers, to ensure that customers receive a fantastic price for their existing Xperia Tablet S 3G. We have spent years creating and maintaining relationships with these recyclers, and are passionate about encouraging our customers to make the best use of this. Everything that we do is designed around the needs of the customer, so we have created a price comparison website that makes it quick and easy to get the information you are looking for.
When you use the OnRecycle system to get a quotation, we do not take any personal details from you. This ensures that you will not receive any aggressive sales calls, nor will you be bombarded by emails trying to force you to sell. During the quotation process, you are free to walk away if you change your mind - you are under no obligation to sell.
---
The OnRecycle System
When you enter our website, you will notice a search bar at the top of each page. Click into this bar and enter the details of the device you are selling (in this case, the Xperia Tablet S 3G). A series of products that match your search will appear in a dropdown box - click on the product that most closely resembles your Xperia Tablet S 3G.
When you arrive on the next page, tell us the condition and version of the Xperia Tablet S 3G you are selling. Be honest with both of these, as the results will determine which recyclers are interested in buying your Xperia Tablet S 3G from you, and how much they are willing to pay. Having selected the relevant options, (e.g. 'working,' 'broken' or 'new' for condition, and '16GB,' '32GB' or '64GB' for version) you are now ready to browse through the table of information.
When choosing a recycler, we suggest that you look at the 'user rating' and 'payment' columns in particular. The 'user rating' fields give the recyclers a rating out of stars (the higher, the better). The data can be rearranged to bring those with the highest number of stars to the top of the list. This can be done by clicking on the arrow next to the 'user rating' heading. We also suggest that you read some of the reviews left by customers who were once in a similar position to you (click the 'view reviews' link below the star rating).
When looking at the 'payment' column, the 'payment period' and 'method' columns should be most closely considered. These will tell you when the recycler will pay, and by which method. If you are after an urgent sale, these sets of criteria will be particularly important to you. It is likely that everyone will have their own reasons for selling, so look through the data in the way that best suits your circumstances.
Once you have chosen a recycler, you are ready to sell. Click on the 'sell now' button next to the recycler you have chosen, and you will be taken through the remaining steps in the sales process. If you are offered the option to sell through OnRecycle, we suggest that you take this, as you will be able to benefit from our expert guidance throughout the process. Furthermore, when entering your payment details, you can do so through our secure system.
Having sold your Xperia Tablet S 3G, you are now ready to shop for a new tablet. When doing so, it can be useful to see how models compare to the one you have just sold - read our review of the Xperia Tablet S 3G for further details.
---
Sony Xperia Tablet S 3G
The Sony Xperia Tablet S 3G was released in 2012. It has dimensions of 239.8 x 174.4 x 8.8 and weighs 585 grams. Using the tablet for its diverse range of functions is easy and comfortable to do, and it is lightweight and small enough to be transported easily.
The Sony Xperia Tablet S 3G has an LED-backlit, LCD capacitive touchscreen with a resolution of 800 x 1280 pixels. The screen is 9.4 inches in size, which makes it a good screen for watching videos.
Furthermore, the screen displays photos effectively, taken from the device's 8 megapixel camera (with 1 megapixel secondary lens).
The Sony Xperia Tablet S 3G is available to buy as either a 16, 32 or 64GB device, and each one is supported by 1GB of RAM. It comes with Android 4.0.3 (Ice-Cream Sandwich) operating system, but this is upgradeable to 4.1 (Jelly Bean). The device plays MP3 and MP4 files and can be purchased in either black or silver.
---
You are viewing:
Sony
Xperia Tablet S 3G