Sell My
Sony Xperia Z3 Tablet Compact
Sell My Sony Xperia Z3 Tablet Compact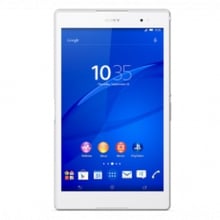 Sell your Sony Xperia Z3 Tablet Compact with OnReycle and get the most money. We compare all major tablet recyclers in seconds.
Payment

Recycler

Price

Freepost

Sameday

Period

Methods

User Rating

Sell Now

Loading recycler prices...
---
Sony was formed shortly after the Second World War, when Masaru Ibuka opened the electronics shop within a Tokyo department store. The name 'Sony' is derived from the words, 'sonnus' (meaning root of sonic and sound) and 'sonny' (a slang term for a boy). Since Ibuka formed the organisation, (alongside Akio Morita - the other founding member) Sony has enjoyed years of success and has become one of the biggest names in consumer electronics and gaming. Devices like the Sony Walkman and the PlayStation have helped the company to grow into the multinational conglomerate it is. The Sony brand is attributed to a range of industries, including entertainment and financial services, as well as the gaming and consumer electronics industries that they are (arguably) more famous within.
Part of Sony's success has come about due to their ability to keep up to date with developments in technology. As they do so, they release new products to match technological capabilities, and subsequently, older items lose their value. Though it is good for consumers to have opportunities to buy the latest Sony smartphones and gadgets, it can be frustrating if they own older devices that have lost value. For example, owners of the Sony Xperia Z3 Compact tablet (released as recently as 2014) may already be considering upgrading to a more recent product, but cannot afford to do so. If this sounds familiar, OnRecycle can help.
---
What OnRecycle Do
OnRecycle have spent years building and maintaining effective working relationships with some of the biggest online recyclers from around the globe. We encourage our customers to take full advantage of this, and have produced an easy-to-use price comparison system which links them with the most suitable recycler for their needs. As we work with such a large number of recyclers, all of them are competing to buy your Sony Xperia Z3 Compact and will pay a fantastic price to do so.
When using the OnRecycle system, you will not be asked to provide any personal details. This keeps you free from being bombarded with emails and calls from us or any other third parties. The system has been designed with the user in mind - not only will it allow you to avoid unwanted hassle, but because it is so easy to use, you can receive a list of quotations in a matter of minutes.
---
The OnRecycle System
When you log on to the OnRecycle website, you will see a search bar that appears at the top of each page. Simply type the name of the device that you are selling (in this case, the Sony Xperia Z3 Compact) and a list of related products will appear. Click on the one that most closely resembles your device, and you will be transferred to the next page.
At this stage, you will be asked to tell us the condition of your Sony Xperia Z3 Compact tablet. Rest assured that even if your device is broken, there are still likely to be recyclers who are willing to pay a fantastic price to take it off your hands. Answer honestly from the options you are given ('working,' 'broken' or 'new') in order to ensure the list of quotations are as accurate as possible.
Once the system refreshes, you will see a list of recyclers, and the prices they are prepared to pay for your Sony Xperia Z3 Compact. Other data will also be shown, giving you further information that will help you with your decision. Whilst it can be tempting to sell to the recycler who offers you the highest price, we encourage you to check a few other factors before selling.
The reputation of the recycler is one such factor. Check the field that gives you a 'user rating' to make a judgement based on the experiences of previous customers who were once in a similar position to you. The star ratings tell you how many complaints per 100 orders each recycler has received - the higher the star rating, the lower the number of complaints and therefore the more positive your experience is likely to be. Another factor we suggest you consider is price.
When considering the price being offered, it is worth checking the 'payment' columns in terms of 'method' and 'period.' These will tell you when you can expect to receive payment, and how it will arrive (e.g. by cheque, bank transfer, etc.). If you are after a quick sale, you may choose to sell to a recycler who offers you slightly less money, but pays quicker.
Once you have chosen a buyer, you are ready to sell. Click on the 'sell now' button, and follow the steps that appear in front of you, to sell your Sony Xperia Z3 Compact. Once you have received the funds, you are ready to start shopping for your next tablet! Here is our brief review of the Sony Xperia Z3 Compact so that you have something to compare your next, potential purchase with.
---
Sony Xperia Z3 Compact
The Xperia Z3 Compact was released in 2014; the same year as the Z3 smartphone. It has dimensions of 213.4 x 123.6 x 6.4mm and a screen size of 8 inches. The Xperia Z3 Compact weighs just 270 grams which makes it an ideal size and weight both for operating comfortably, and transporting.
The display has a resolution of 1200 x 1920 pixels and is both waterproof and dust-resistant (to a degree). In addition, the Xperia Z3 Compact has a shatterproof glass front, to protect it against any unfortunate accidents.
The Xperia Z3 Compact has an 8.1 megapixel camera, with a 2.2 mega pixel front-facing lens. It operates via Google Android 4.4.2 (KitKat) when purchased, though this can be upgraded to 6.0 (Marshmallow). The tablet comes as a 16GB model with 3GB of RAM, and plays MP3 and MP4 files. The Xperia Z3 Compact is available to buy in either black or white.
---
You are viewing:
Sony
Xperia Z3 Tablet Compact