Sell My Google Pixel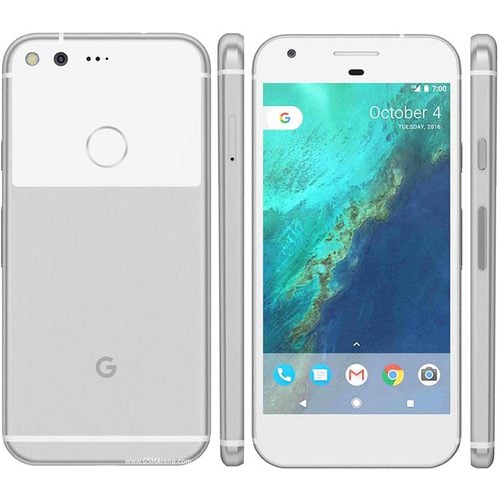 Sell your Google Pixel with OnReycle and get the most money. We compare all major phone recyclers in seconds.
Payment

Recycler

Price

Freepost

Sameday

Period

Methods

User Rating

Sell Now

Loading recycler prices...
---
The Google brand has become one of the most talked about, and most used on the internet today. Not only is Google a popular choice for a search engine, but it is also known for numerous other products including advertising, software and hardware. This has led to a large number of acquisitions and partnerships as Google have tried to expand their operations. In 2015, Google reorganised its structure and produced a subsidiary company known as Alphabet, of which Larry Page (one of the founding members of Google) became the CEO.
One of Google's series of products, known as the 'Pixel' range, specialises in tablets, Chromebook laptops (although in 2017 Google announced plans to withdraw from this market) and smartphones. The Google Pixel was launched in 2016 amongst a wealth of other competition, including the ever-popular iPhone and Samsung Galaxy devices.
Purchasers of the Google Pixel may already be considering the device's appeal. With so many smartphones on the market today, users can find it difficult to purchase a model that fits their requirements. When ordering over the internet, it is not until the device arrives that users get a real opportunity to use the handset and test whether it is completely suited to them. Many people realise that the product is unsuitable, and as a result, a market has been created for people who wish to cash in on their unwanted handsets - enabling them to use the money to buy another smartphone.
When you purchase a phone and realise it is not suited to you, it can feel disappointing. The last thing you want to do is go through a complicated selling process where you have to contact potential buyers, finding out how much they are will to pay. Having done so, you then need to do your research - to check they are a reputable company. When will they make payment? Will you have to keep chasing them? The list is endless, and you don't have the time to shop around.
This is where OnRecycle can help. We are experts in helping consumers address their mobile needs, by taking the hassle out of finding a suitable buyer. We have built up effective working relationships with a number of the major recyclers online. Having put in the hard work, we have set up a system that enables you to find the perfect buyer for your Google Pixel, offering you a fantastic price. Not only have we saved you the hassle of shopping around, we've even found you the best prices!
---
Google Pixel
The Google Pixel was released in 2016, with the Android 7.0 Nougat operating system. The system has received rave reviews for its speed and camera facility - benefitting from HDR to produce some amazing snaps with a stunning quality. In terms of storage for these photographs, the Google Pixel enables users to access unlimited storage on the 'cloud' which is used via Google photos. The phone has a 5-inch display, with a resolution of 1080 x 1920 pixels. This high-quality resolution is behind the impressive camera function and gives the device its name.
Elsewhere, the Google Pixel has an 'Assistant' which is known as personal Google, and resembles other voice recognition assistants such as Apple's Siri. However, Google believe that it is more intelligent than other products, as it takes your question's context into account to produce a more 'natural' sounding conversation. The phone also has a fingerprint sensor.
---
How It Works
OnRecycle's system is incredibly simple to use. We ask you for a few details about your phone (which shouldn't take you more than a couple of minutes), and we then produce instant quotations from a list of recyclers who are willing to buy your Google Pixel from you. After you have searched for the unit in the search bar at the top of the screen, the list of relevant products appear (as there are only a couple of Pixels to choose from, it won't take you long to locate yours).
Clicking on the product transfers you to another screen where you let us know the condition of your phone (money can still be received for broken handsets), and the phone version (either 32 or 128 GB models). That is all you need to do to receive a list of quotations.
Despite the fact that you have a list of companies competing for your phone, you are still under no obligation to sell. So, even if you are only interested in receiving quotations at this stage, you can still use the service to merely receive information. Where OnRecycle stand out from our competitors is in how much respect we pay to our customers. We will not bombard you with sales calls or emails, trying to get you to sell your phone (this would be impossible anyway as we have not asked for your contact details).
When selecting a buyer to sell your phone to, you are likely to consider a few things. Firstly, is the company a reputable one? Sort the data by 'user rating' to find out who has received the best rating by other sellers. Price is also likely to play a big part in who you sell to, so the option to filter the data according to the highest price is also available. If you need the cash urgently, you can also filter the data to give you the recycler's payment terms. These are just some of our guidelines - you may have your own set of criteria for choosing a suitable recycler.
Having chosen one, you are now free to complete the process and receive your cash. Having received payment, you may want to start shopping around for your next phone. Here is some helpful information about the Google Pixel, for you to compare your next search against:
---
You are viewing:
Google
Pixel
up to the price of:
£20.00