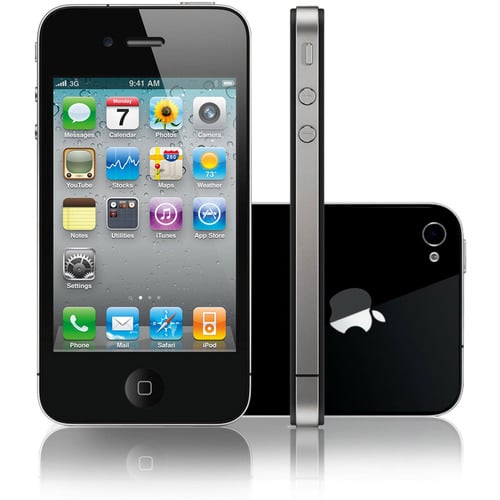 Sell your iPhone 4S with OnRecycle to make the most money - we compare all major phone recyclers in just seconds to find you the best price possible for selling your iPhone 4S.
Payment

Recycler

Price

Freepost

Sameday

Period

Methods

User Rating

Sell Now

Loading recycler prices...
---
Apple iPhone 4S
In 1976, Steve Jobs, Ronald Wayne and Steve Wozniak founded Apple; a company specialising in developing and selling personal computers. Since then, the company has grown exponentially and - although remaining in the electronics industry - it has diversified into markets such as smartphones and online services.
Nowadays, Apple is regarded one of the biggest consumer electronics companies in the world, and the brand is either on or around the top of the list when it comes to smartphone sales each year. One of the keys to Apple's success is in its ability to produce state-of-the-art technology regularly, whilst ensuring that each device is user-friendly and incorporates the features that we know and love.
Apple fans have been known to queue for hours in hopes of getting their hands on the newest smartphone release - showing just how sought-after their products have become! With Apple consistently creating upgraded iPhones, owners of older handsets are quickly left with outdated technology. It also means that the value of these older devices are reduced almost as soon as they are purchased. This, in turn, makes selling the device more difficult - so finding a place to sell your iPhone 4S for cash may be tricky!
However, if you've been contemplating an upgrade and "Sell my iPhone 4S" is on your to-do list, you're in luck: OnRecycle are here to help you do just that! We work with some of the world's leading online mobile phone recyclers to bring you the best iPhone 4 trade in options possible - you may be surprised at just how much money you get!
To begin the process of selling your iPhone 4S, simply search for the device using the bar above and select it from the dropdown list. Then you'll want to select the condition and version of the iPhone 4S you're selling - this will affect the prices you'll see, so make sure you choose accurately!
Once that's done, you're ready to view your iPhone 4S trade in options - with price, payment period, and user rating information all at your fingertips, who knew selling your iPhone 4S could be so simple?
---
You are viewing:
Apple
iPhone 4S