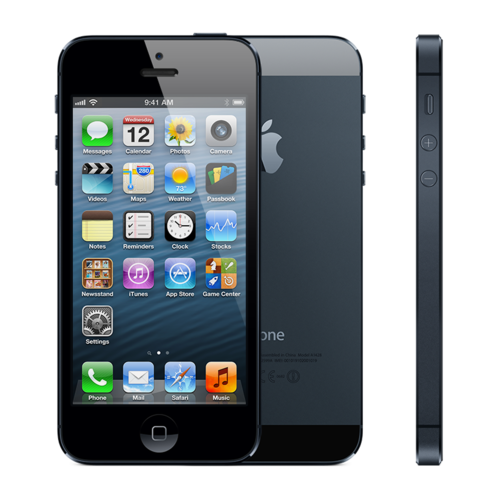 Sell My
iPhone 5
for the best price online
Sell your iPhone 5 with OnReycle and get the most money. We compare all major phone recyclers in seconds.
Is your phone locked to a network? If so, please choose a network below:
Unlocked
EE
Orange
T-Mobile
Three
Vodafone
O2
Tesco
Virgin

Lyca Mobile

Giff Gaff
Payment

Recycler

Price

Freepost

Sameday

Period

Methods

User Rating

Sell Now

Loading recycler prices...
---
Selling your iPhone 5
When the iPhone 5 was released in 2012, it received rave reviews. Since then, Apple phones have been modified and upgraded with the release of the iPhone 6 and the iPhone 7 models. As such, Apple have been able to offer phones with newer, improved specifications, causing consumer trends to change in accordance with improved technology. If you are considering changing devices (or have already done so), need some cash quickly, or your phone is broken, you may be wondering how much you could receive for your unwanted iPhone 5. OnRecycle can provide you with all the details you need to sell, or get a quote.
About OnRecycle
OnRecycle take the hassle out of selling your phone. Working with the major recyclers in the industry, OnRecycle's user-friendly service enables sellers to type in the device that they wish to sell and a list appears with details of potential buyers, including the price that you can expect to receive for your phone. At this stage, there is no obligation to sell your phone, so even if you are only considering it, you will still receive an accurate price.
Tailored for you
Whilst many phone users believe that once the phone is broken, it should be thrown away, this is not necessarily the case. One of the options that OnRecycle provide is the to change the filter to 'broken' and a list of buyers and prices appears once more. So, even if your phone is damaged, someone still be willing to give you money to take it off your hands! In addition, if you have recently purchased a new iPhone 5 and are already looking to upgrade or change it, clicking on the 'new' filter will bring up a list of buyers and prices. You should, therefore, receive more for your new device than you would for a used model.
The iPhone 5 also sells a range of models, including those with 16GB, 32GB and 64GB storage. The search filter allows you to type in the model that you wish to sell, to ensure that the list of results that is returned, provides the most accurate details. The service provide by OnRecycle gives users confidence that the price they are being quoted is what they will actually receive for their phone.
What OnRecycle do
Once the details of the iPhone 5 have been entered into the search details, a list of potential buyers is returned. Underneath each one, a link appears displaying the buyer's name and the price they would be willing to pay. Clicking on 'sell now' directs you either to the details of the buyer, or in some cases, an option to sell your phone directly through OnRecycle. Taking the hassle out of selling your mobile phone, OnRecycle save you time whilst ensuring that you still receive the best possible price for your device.
The iPhone 5
Despite newer versions of the iPhone having been released, the iPhone 5 is still popular with many iPhone users. The phone has a 4 inch touchscreen display, making operation easy and clear. When the iPhone 6 was released, Apple only saw the need to increase the display by .7 inches, suggesting that they were relatively happy with the 4 inch screen. In addition to having a good size screen, the iPhone 5's specification enables clear text and images (640 x 1136 pixels). Due to this, users were happy with the clarity of their device – and this may have contributed towards Apple being happy to wait 2 years before releasing the iPhone 6.
In terms of speed, the iPhone 5's 1.3 ghz Apple A6 processor gives users a speedy Internet service, allowing searches to be conducted promptly. Of course contemporary processors are of a higher spec, however, many users still find the iPhone 5's processor satisfactory for their purposes. Dependant on one's requirements, the iPhone 5 allows general web browsing to be conducted in a relatively speedy timescale.
As with most Apple products, different storage options are available depending on usage. The iPhone 5 allows users to choose from either 16gb, 32gb or 64gb options. 64gb is often more than enough storage for many phone users, and 16gb and 32 gb also provide good storage alternatives at cheaper prices – storing a range of music, videos, emails and photos is still possible on these devices.
Because of the storage options available, the iPhone 5 also makes a good camera and place to collect photographs. This is complemented by the phone's 8 megapixel camera. The iPhone 6 also has an 8 megapixel camera which indicates that Apple were happy to keep this camera spec when upgrading. The phone also allows you to take 'selfies' with a front display, though the resolution for this option is less (1.2 megapixels).
When the iPhone 6 was released, the model's appearance was more streamlined. However, the iPhone 5 does not feel uncomfortable to hold, weighing in at 112 grams. Having dimensions of 123.8 x 58.6 x 7.6, the phone is still relatively light and easy to carry. Additional features for the phone include a light and a calculator, which are more useful than one might expect!
As the iPhone 5 is still a popular choice amongst many users, suppliers are willing to pay a good price for used, new and damaged models. Get a quotation through OnRecycle, and you might decide that upgrading to a new model is more affordable than you previously expected.
You are viewing:
Apple
iPhone 5
up to the price of:
£86.00