Sell My
Apple iPad Pro 9.7 WiFi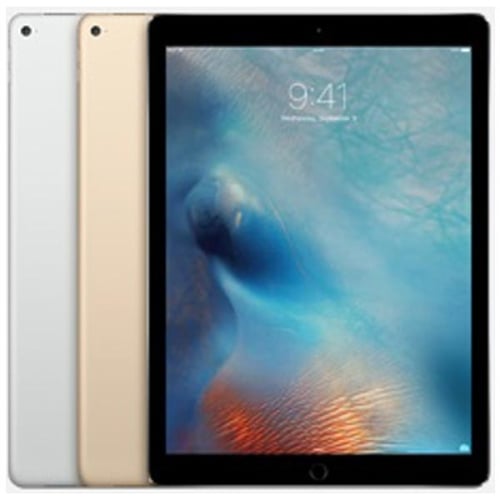 Sell your Apple iPad Pro 9.7 WiFi with OnReycle and get the most money. We compare all major tablet recyclers in seconds.
Payment

Recycler

Price

Freepost

Sameday

Period

Methods

User Rating

Sell Now

Loading recycler prices...
---
When Apple was formed in 1976, Steve Jobs, Ronald Wayne and Steve Wozniak could not have imagined how popular and eagerly-anticipated its range of products would eventually become. Consumers of Apple products border on the fanatic each year, when Apple is due to release its latest device - this has helped the multinational technology company enjoy the brand loyalty that it does today. Whether it be the latest iPad, Mac laptop or iPhone, consumers know that they are going to be purchasing a product that has one of the highest technological specifications, whilst remaining user-friendly. These are just some of the reasons why Apple has become such a well-known household name.
When Apple releases its latest products, however, older devices quickly lose their value. This is a natural part of the product cycle, but the speed with which technology evolves means that devices such as the iPad Pro 9.7, (released as recently as 2016) lose their value almost as soon as they arrive in your house. Some consumers will decide to sell their device early, so that they can afford to buy newer technology (or have the budget ready to do so when it arrives). Others may decide to sell because the device does not suit their requirements. Whatever your reason for selling, OnRecycle can help you to get a fantastic price for your device.
---
What OnRecycle Do
We have teamed up with some of the world's biggest online recyclers, to give consumers a platform on which to sell their iPad Pro 9.7 for an amazing price. We have spent the time building and maintaining relationships with potential buyers, to save you the hassle of having to shop around and find the best deal yourself. We understand that this is a time-consuming and stressful process, so we have designed a system that does the hard work for you. Not only will it give you the information you need to secure a fantastic deal, but it is also easy to use. Even the most non-technical of consumers enjoy using the OnRecycle system!
---
How The OnRecycle System Works
When you are interested in receiving a quotation for your iPad Pro 9.7, click on the search bar that appears at the top of each page on the OnRecycle website. Once you have done this, type in the details of your device (in this case, the iPad Pro 9.7) and a list of relevant products will appear. Click on the product that best matches your device, and you will be taken through to a new screen which asks for a couple more details.
During this part of the process, we need to know the condition and version of the iPad Pro 9.7 you are looking to sell. This will help us to link your device to the best recycler, and give you a list of up to date, accurate prices to suit your purpose. Regarding the phone's condition, we need to know whether the phone is working, new or broken (even broken models can still receive a fantastic price!). In terms of the version you are selling, select from the 32, 128 and 256GB options. Do ensure that the information you provide us is accurate, so that you are not disappointed later on in the process.
Once we have this information, the system will refresh to give you an up-to-date table of quotations - use this information available to select the best recycler for you. Although it may appear intimidating, all of this information is there to help you make the best decision for you. We suggest that you consider a few factors before you choose.
The recycler's reputation should be looked at. This can be done by viewing the number of stars that appear in the 'user rating' column. The higher the number of stars - the more positive your experience with that recycler is likely to be. You might also like to read some of the reviews left by other customers (who were once in your situation) - this can be done by clicking on the 'view reviews' link that appears just below the stars.
It is likely that price will also be of interest to you. In addition to the amount being offered, we suggest that you look at the method by which payment will be made (e.g. cheque, bank transfer, etc.) and the speed that it will arrive. These factors may all dictate the recycler you wish to sell your iPad Pro 9.7 to, especially if you are after quick cash.
Once you have made a decision, click on the 'sell now' button next to the recycler of your choosing, and follow the remaining steps to sell your iPad Pro 9.7. When you have done so, and the money has arrived in your account, you might be wondering how you can spend it. If another tablet is on your shopping list, it is probably worth reading our review of the iPad Pro 9.7, so that you have something to compare your next purchase to.
---
iPad Pro 9.7
The iPad Pro 9.7 was Apple's 2016 release to the tablet market. It comes with (as the name suggests!) a 9.7-inch scratch-resistant display, which has a resolution of 1536 x 2048 pixels. The full dimensions for the iPad Pro 9.7, are 240 x 169.5 x 6.1 and the iPad Pro 9.7 weighs just 437 grams. These dimensions make it extremely lightweight and therefore easy to transport and use.
The iPad Pro 9.7 comes with iOS 9.3.2 and this is upgradeable to 10.3. It can be purchased either as a 32, 128 or 256 GB model and each of these tablets come with 2GB of RAM. The memory is particularly useful for storing the photos taken from the device's high-quality 12 megapixel camera lens, with a secondary lens of 5 megapixels.
The device has a fingerprint sensor and functionality for Siri voice command, MP3 and MP4 files, as well as a document editor. The battery has up to 10 hours of talk time (multimedia). The iPad Pro 9.7 can be bought either in silver, gold, space grey or rose gold.
---
You are viewing:
Apple
iPad Pro 9.7 WiFi
up to the price of:
£163.50