Sell My
Samsung Galaxy Mini GT-S5570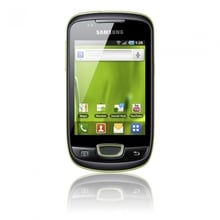 Sell your Samsung Galaxy Mini GT-S5570 with OnReycle and get the most money. We compare all major phone recyclers in seconds.
Payment

Recycler

Price

Freepost

Sameday

Period

Methods

User Rating

Sell Now

Loading recycler prices...
---
Samsung's history incorporates a range of different industries, which signifies the flexibility with which they trade and become more successful as a result. Starting off by selling fish, fruit and veg to China, the multinational conglomerate is now arguably most famous for its range of smartphones, although consumer electronics also play a major part in their popularity. It is almost impossible to think that one organisation could be capable of having the same influence on any nation as Samsung have in South Korea. The company, based in Seoul, are influential on the nation's culture and media, politics and economic development.
In the 1990s, the mobile phone market was increasingly expanding across a range of manufacturers. Samsung were one of the companies to arise from that period extremely successfully. Now, the Samsung brand is synonymous with progressive mobile phone technology, and its most recent 'S-series' of phones are eagerly awaited by Samsung fanatics all over the world. Due to the sheer number of phones released by Samsung, and other manufacturers, however, many devices can quickly become unwanted.
Released in 2011, the Galaxy Mini GT-S5570 is, perhaps, one of those devices. Many consumers buy new mobile smartphones every year and because of this, the Mini GT-S5570 could be seen as an easily-replaceable handset. If you have a Samsung Galaxy Mini GT-S5570 and are looking for ways to sell it, OnRecycle are here to help.
Who Are OnRecycle?
We are a company who have spent time cultivating relationships with people who are passionate about buying your Galaxy Mini GT-S5570 from you. Although you may not need it anymore, there are a number of online recyclers who do. As they are all competing against each other through OnRecycle's system, they are likely to offer you a fantastic price for the handset. All you need to do is enter the details of your handset and our website will do the rest.
How Does The OnRecycle System Work?
When you log onto the site you will notice a search bar that appears at the top of every page. Simply type in the words 'Galaxy Mini GT-S5570' and the system will find the matching product, along with an image of the phone. Click on the image and you will be transferred to the next page.
You now have two options to review in order to give us a better idea of the handset you have. We need to know the phone's condition (broken, working or new) to assess its value to the recyclers. Even if your phone is broken, you could receive a fantastic price for it.
Next, we need to know if your handset is locked to a network. Enter these details on the screen, and the list of recyclers, and the price that they will pay for your Galaxy Mini GT-S5570 will update. Within seconds, you have a full list of quotations from recyclers who want your phone! Do not feel under pressure, though, as at this stage you are still under no obligation to sell and can easily change your mind if necessary. Furthermore, we have not taken any personal details from you, so you will not be bombarded by any emails or sales calls from us or any third parties.
Now that you have a list of recyclers, you are free to choose the one that suits your requirements the best. Sort the information by either 'price,' 'payment period' or 'user rating' to organise the data as you wish. When considering a recycler, these are generally the most popular criteria by which people organise the data. It may also be useful for you to do some of your own research - a quick internet search will give you more information about the company's history and reputability.
When choosing a recycler, we recommend that you pay particular attention to the recycler's user rating. The rating is made up of 'stars' and is calculated by reviews left by previous mobile phone sellers. This allows you to learn first-hand how reliable and reputable each recycler is. Not only do we recommend viewing the user rating, but, by clicking on the 'view reviews' link, you can read the reviews that have been left.
Having found a recycler who suits your requirements, you can now sell your phone. Click on the 'sell now' button and you will be transferred to a new page with further instructions to follow. Selling your Galaxy Mini GT-S5570 could not have been easier!
Now that you have received the cash, you can start to look for another device, more suited to your current needs. Here is our review of the Galaxy Mini GT-S5570, so that you have something to compare your new phone with.
Galaxy Mini GT-S5570
Samsung released the Mini GT-S5570 in 2011, in the midst of strong competition from manufacturers like Apple. The device is extremely lightweight, weighing just 105 grams. It has a TFT capacitive touchscreen, which has become standard for many mobile devices in today's society.
The screen measures 3.14-inches and has a resolution of 240 x 320. This screen is capable of recording quality photographs which emanate from the device's 3.15-megapixel camera, complete with geo-tagging functionality.
The device comes with the Android 2.2 (Froyo) operating system, but this is upgradeable to 2.3 (Gingerbread). It comes with an initial 2GB storage, but if this is unsatisfactory, it can be extended by up to 32GB with a micro SD card. The phone has a stereo FM radio, a loudspeaker, MP3 and MP4 music functionality, and is available to purchase in either black or white.
---
You are viewing:
Samsung
Galaxy Mini GT-S5570