According to Google, electronic waste – or e-waste – refers to all items of electrical and electronic equipment (EEE) and its parts that have been discarded by its owner as waste without the intent of reuse. E-waste is also referred to as WEEE (Waste Electrical and Electronic Equipment) or e-scrap, depending on where you are in the world.
E-waste can include many products – almost any household or business has items with circuitry or electrical components with power or battery supply, meaning it should be recycled properly.
The Global E-Waste Monitor 2017 report suggests increasing levels of electronic waste, and its improper and unsafe treatment and disposal through open burning or in dumpsites, will pose significant risk to the environment and human health. It also presents several challenges to sustainable development.
The same report details, in 2016, 44.7 million metric tonnes of e-waste were generated, globally. This is equivalent to almost 4,500 Eiffel Towers. Yet, just 8.9 Mt of e-waste was documented to be collected and recycled, which corresponds to as little as 20% of all e-waste generated.
By 2021, it is expected e-waste will reach 52.2 Mt – an annual growth rate of 3-4%.
Why is E-Waste Rising?
E-waste is on the rise and it's perhaps no surprise as to why. The global information society is growing at a great speed. Characterised by an increasing number of users and rapid technological advances that are driving innovation and social and economic development.
In 2017, some 3.6 billion people – close to half the world's population – were using the internet. Over 80% of the world's population is covered by a mobile broadband signal, which allowed for 7.7 billion phone subscriptions and 4.2 billion active mobile-broadband subscriptions. Furthermore, 54% of households had the internet at home and 48% had a computer.
Additionally, it is likely consumers will own more than one information and communication technology (ICT) device and the replacement cycle for devices, such as mobile phones and computers, is becoming far shorter.
It is also expected, due to disposable incomes in many developing countries rising, and a growing global middle-class, consumers can afford to spend more on electrical and electronic equipment; consequently, generating more e-waste than ever before.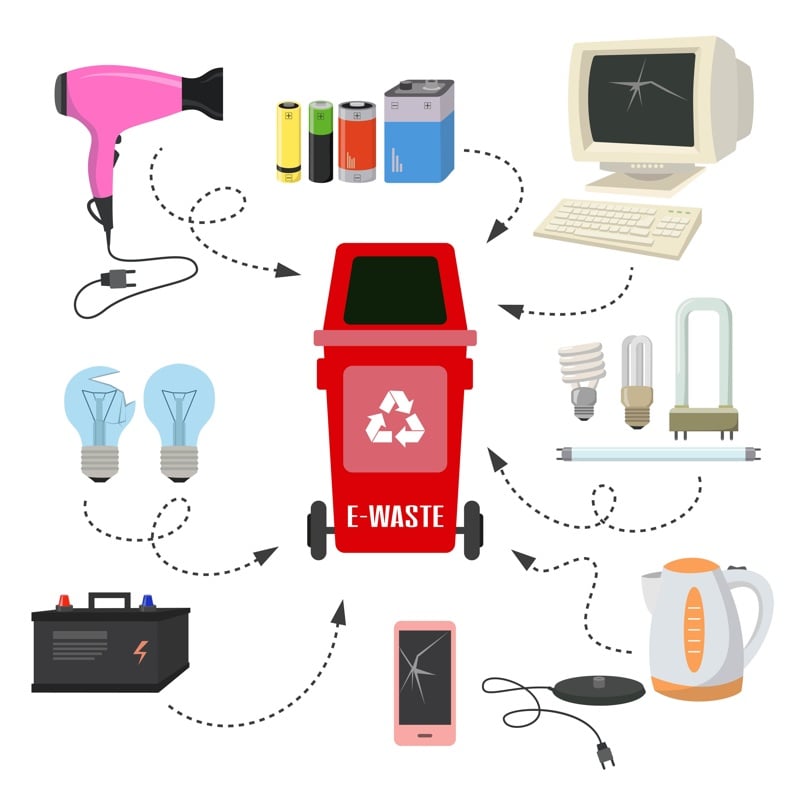 Credit: Rawpixel.com/Shutterstock
UK E-Waste: Investigated
Wiseuptowaste.org.uk claims the UK will contribute around 1 million tonnes of e-waste every year. This waste will contain valuable metals, as well as plastics and other materials that can be recovered through the recycling process and then used to make new products.
For example, consumers in the UK purchase around 22.5 million phones annually. These phones will contain nearly 1 tonne of gold, over 9 tonnes of silver and over 300 tonnes of copper. Fast-paced tech development, new upgrades and an abundance of exciting new products, will mean mobile phones that are only a couple of years old may play a part in the plentiful e-waste generated.
Concerned that the amount of e-waste generated is expected to increase substantially over the next decades, OnRecycle, who provide an easy mobile recycling comparison service, delved deeper into the issue. OnRecycle analysed 2018 data released by Gov.uk, concerning Waste Electrical and Electronic Equipment (WEEE.)
The data outlines household e-waste collected in the UK throughout 2017. The data found that Large Household Appliances, such as a washing machine, accounted for most of the e-waste generated by households in the UK in 2017 – with an astounding 183,704.345 tonnes recovered.
Credit: AlexLMX/Shutterstock
Cooling Appliances Containing Refrigerants (135,680.587 tonnes) is the next highest figure, followed by Display Equipment – at 54,199.233 tonnes. IT and Telecom Equipment, such as landline telephones and satellites, came next (48,562.735 tonnes) and Consumer Equipment (such as headphones) closed the top five highest e-waste products recovered, at 39,539.201 tonnes.
Products with lesser quantities recorded, such as those under the umbrella of Toys, Leisure and Sports (2,327.994 tonnes) and Monitoring and Control Instruments (140.639 tonnes), continue to echo the notion we need to take more responsibility regarding how our e-waste is handled.
Cas Paton, managing director of OnRecycle, notes:
"One of the key hazards of e-waste is its electronic components, which often contain toxins, such as lead, cadmium and mercury. For this reason, e-waste must be handled with the utmost care. This includes an appropriate method of recycling, refurbishment or disposal.
Since most types of e-waste can be recycled effectively, it is not necessary to leave unwanted, electronic waste to gather dust in a dump. E-waste is dreadfully harmful to the environment and it prompts a very serious issue we must address."