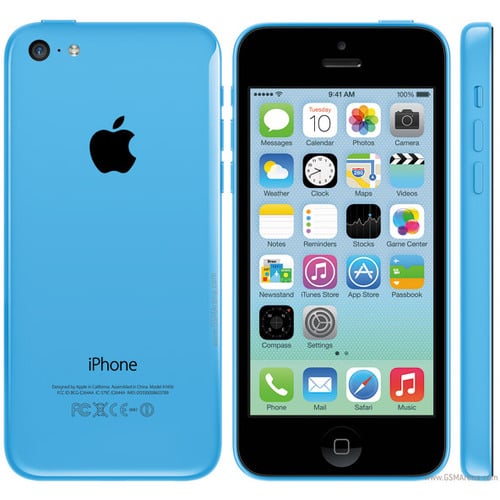 Sell My
iPhone 5C
for the best price online
Sell your iPhone 5C with OnReycle and get the most money. We compare all major phone recyclers in seconds.
Is your phone locked to a network? If so, please choose a network below:
Unlocked
EE
Orange
T-Mobile
Three
Vodafone
O2
Tesco

Virgin
Lyca Mobile
Giff Gaff
Payment

Recycler

Price

Freepost

Sameday

Period

Methods

User Rating

Sell Now

Loading recycler prices...
---
The 'Apple' brand has become world famous within industries such as consumer electronics, online services and computer software. Since they were founded in 1976, the company has gone from strength to strength and has managed to maintain a great reputation worldwide. One of the reasons Apple is so popular is due to the high-quality, state-of-the-art technology incorporated within each product, whilst maintaining a user-friendly experience. It is this feature which appeals to an enormous number of Apple customers and as a result, they are able to benefit from brand loyalty.
Apple regularly release new products to help them retain this loyalty, and each time they do, they generate excitement in the marketplace - with consumers and critics speculating about the potential features the latest products will come equipped with. Whilst this is exciting - and customers are able to benefit from the products being launched - it also means that older devices lose their value quickly. The iPhone 5c, for example, was released as recently as 2013 and is already worth only a fraction of its sales value. When owners wish to upgrade, it can be difficult to do so without the finances. If this sounds familiar to you, OnRecycle can help.
OnRecycle have helped consumers find solutions for their smartphone needs for years. We know what it is like to be left behind with technology and need a newer handset that is more suited to your lifestyle. Finding a buyer who will offer a great sum of cash can be time-consuming and often end in disappointment. However, it needn't end this way - if you follow the OnRecycle process, you'll find the perfect buyer for your iPhone 5c almost instantly!
We work with some of the world's largest online recyclers to give you a platform upon which to sell your iPhone 5c. OnRecycle is completely free to use, and gives you all of the information you need to make a sale. We do not take any personal details from our customers during the quotation process, which ensures that you won't receive any aggressive sales calls or being bombarded by emails. The system has been designed with the user in mind; it is both quick and easy to use.
The OnRecycle System
When you have decided that you wish to sell your iPhone 5c, log on to the OnRecycle website and type the name of the model into the search bar at the top of the webpage. This will bring up a series of related products; select the one that best matches your iPhone 5c. You will then be transferred to a new page which asks for some more specific details.
We need to know both the condition of your iPhone 5c and the version of the device you are selling (as these factors will affect the price). The iPhone 5c could either be an 8, 16 or 32GB device, depending on the version you own. With regards to the phone's condition, we need to know whether it is in working order, is new or broken. Rest assured that even broken handsets can still return a fantastic price!
Once our system has these details, it can generate quotations and all the other important information you have been waiting for. As the screen refreshes, you will be presented with a table of figures that give you the data needed to make a decision on selling. We think you'll agree that this is easier than shopping round a list of potential buyers, looking for a suitable recycler?!
Although the data you have in front of you may seem overwhelming, we will take you through it step by step. The fields to pay closest attention to are the ones that suit your own criteria for selling. If you want to raise cash instantly, the 'payment period' column will be of particular interest. You may also want to check the 'payment method' column, particularly if you do not want to go through the cheque clearance process, for example. One area we suggest you pay specific attention to is the 'user rating' field.
When making a sale, you probably want a hassle-free process where you simply send the phone off and receive the money as agreed. Unfortunately, as with any industry, the experiences that sellers have can be mixed. By checking the seller's reputation, you can increase the chances of it being successful, by reviewing the star rating and reading up on some of the reviews (click on the 'user review' link to do this). You may also want to do your own research by checking the recycler's website, or searching the internet for other reviews.
Once you have decided on a recycler, you are ready to sell your iPhone 5c. Click on the 'sell now' button and follow the remaining steps to complete the sale. When the money arrives in your bank account, you can start shopping around for a new smartphone. Compare potential handsets to your previous iPhone 5c by reading our short review.
Apple iPhone 5c
The iPhone 5c was released in 2013. It has dimensions of 124.4 x 59.2 x 9 mm and weighs 132 grams. It has a 4-inch display which has a pixel rating of 640 x 1136, the same as the iPhone 5s, which was also released in 2013. One of the ways in which the 5c differs, however, is in the choice of colours that are available to customers, these being white, blue, green, yellow and pink.
Elsewhere, the iPhone 5c operates from iOS 7 when purchased, and this can be upgraded to iOS 10.3.2. The device can be bought as either an 8, 16 or 32GB model. It has an 8 megapixel camera and Siri functionality. The iPhone 5c also plays MP3 and MP4 files and has a battery life of up to 250 hours standby (3G), up to 10 hours talk time (3G) and up to 40 hours of music.
You are viewing:
Apple
iPhone 5C
up to the price of:
£76.00