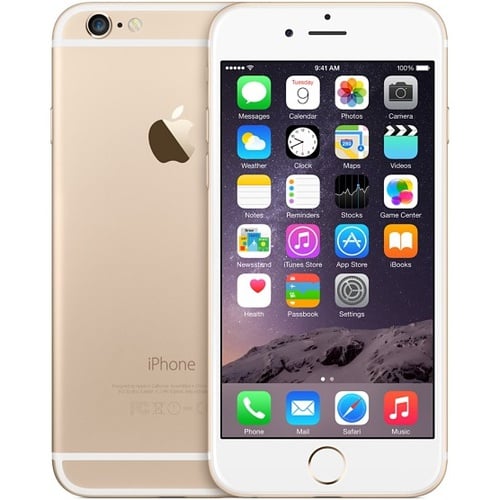 Sell My
iPhone 6
for the best price online
Sell your iPhone 6 with OnReycle and get the most money. We compare all major phone recyclers in seconds.
Is your phone locked to a network? If so, please choose a network below:
Unlocked
EE
Orange
T-Mobile
Three
Vodafone
O2
Tesco
Virgin

Lyca Mobile

Giff Gaff
Payment

Recycler

Price

Freepost

Sameday

Period

Methods

User Rating

Sell Now

Loading recycler prices...
---
Selling your iPhone 6
There has never been an easier way to sell your iPhone 6. If you have a broken model, need some extra cash, have recently upgraded, or have another reason for wanting to sell - OnRecycle provides the perfect solution to your needs.
How OnRecycle works
OnRecycle compare the major recyclers to provide a database of companies willing to buy iPhone 6 devices. Users simply enter the model that they wish to sell, and a list of potential buyers appears, along with the prices they are willing to pay. Simply click on a link, and you are directed to their website; enabling you to complete your business with your choice of buyer. Rather than having to shop around, OnRecyle's service eliminates the hassle, allowing you to sell your device quickly.
Many consumers falsely believe that only working models can be sold, but that is not the case. OnRecycle's search options can be filtered to include models that are either working or broken. In addition, if you have only recently purchased your iPhone 6, you should be able to receive more money for it than one that has been used for a longer period. By clicking on the 'new' filter, a list of suppliers and prices appears. The search filter also caters for different versions of the iPhone 6 (16, 32 and 64 GB models). Tailoring the search option to your need allows you to find the best possible price!
A word of caution
When choosing a company to work with, we suggest that you approach with caution. Whilst most sellers choose the buyer who offers the highest price, there are many questions that you should ask yourself, prior to selling. What is the reputation of the buyer offering the highest price? Have you read the reviews from other consumers who have used them? This is extremely important; you don't want to send your phone off on the promise of a payment, if this payment never appears. This is why a range of recyclers is provided. Another consideration, is that recyclers have different payment terms (some pay instantly, some do not). So, your circumstances for selling may affect the buyer that you choose to sell to.
About the iPhone 6
When the iPhone 6 was released in September 2014, one of the most notable features was the large, 4.7 inch screen. Many customers – especially those who had purchased previous iPhones – were delighted to see this improvement. Despite being larger, it is still comfortable to hold. Images are more colourfully and clearly displayed and reading text became easier as users reported that more words appeared on the screen. Indeed, some users even chose to use their iPhone for reading ahead of their iPad!
Many phones which have larger screens can appear quite unattractive, and are awkward to operate. This, however, is not true of the iPhone 6. The device is skinny (6.8 mm) meaning that it is still incredibly light to hold. Its aluminium chassis is visually attractive to users and, in addition, is harder 'wearing' making it more difficult to break than previous models. The phone also has smoothly rounded corners, providing a nice texture and comfort when holding. The aluminium also gives the back of the model a stylish, streamlined appearance, which gives the phone a modern appearance – even two years after its release. The range of colours also tailors the phone to suit the requirements of users, being available in silver, gold, space grey and (for the first time in iPhone's history), rose gold. If you compare the appearance of the device with the previous iPhone 5, the work that designers had been putting into improving its appearance can be clearly seen.
As with many Apple devices, the iPhone 6 was designed to suit a range of users. Customers have a choice of purchasing either 16GB, 64GB or 128GB models - whether using the phone for quick internet browsing, or downloading songs, videos and a bigger range of documents, there is a phone to suit many requirements.
In addition to songs and videos, the device's 8 megapixel lens also makes it an ideal choice of camera. Combining this feature with a larger model allows users to easily store a collection of photographs and, as with other Apple products, syncing these to your other Apple devices is easy.
Browsing the Internet is also much-improved from previous device types. Many users found problems with the iPhone 5 when browsing – finding the experience to slow, particularly with IOS8. By contrast, the iPhone 6 has delighted users who have found Internet browsing a much more pleasant, smoother experience.
Due to these features, many companies are still keen to purchase the iPhone 6, and as such will offer a good price for your model. Get in touch with OnRecycle to find out how much you could be receiving for your unwanted device, and you could receive a payment imminently.
You are viewing:
Apple
iPhone 6
up to the price of:
£236.18