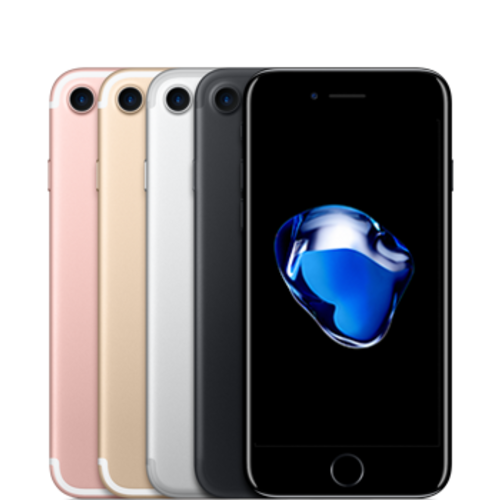 Sell your iPhone 7 online with OnRecycle and get the most money – we'll compare all the major phone recyclers in seconds so you can sell your iPhone 7 with ease.
Payment

Recycler

Price

Freepost

Sameday

Period

Methods

User Rating

Sell Now

Loading recycler prices...
---
Sell Your iPhone 7 For Cash
When Steve Jobs, Ronald Wayne and Steve Wozniak launched Apple back in 1976, they could not have predicted that it would reach the heights that it has. Neither could they have predicted the different technologies that the 21st century would bring for them to put to use in a range of exciting ways.
Operating from their California headquarters, Apple has become a benchmark for the smartphone industry - it may have many competitors, but few (if any) are able to reach the same high standards. The newest releases are eagerly anticipated by Apple fanatics every year. The latest iPhone, the iPhone 7, was released in 2016 amongst strong competition from Samsung and other competitors.
While we're sure that many iPhone 7 owners were happy with their purchases, we're sure that there are some among you who saw the device as being too similar to previous handsets, and fancy trading in your iPhone 7 for cash – that's where OnRecycle come in!
We recognise that changing device is not easy nor cheap, however OnRecycle are able to provide a way for you to sell your iPhone 7 and treat yourself to a shiny new model with ease – and your trade could happen a lot quicker than you might initially envisage!
---
What We Do
At OnRecycle, we're passionate about pairing every person with their perfect handset – but we recognise that there is no 'one device fits all' product and everyone has their own phone preferences. That's why we have invented a system that allows you to compare prices and find the best place to trade in your iPhone 7 for cash, so that you can find one more suited to your lifestyle.
We work with some of the biggest online recyclers in the world to match their needs against yours. You wish to sell your iPhone 7, and they want to buy it from you. Rather than you having to shop around and contact each recycler to find out the best trade in prices for iPhone 7, OnRecycle can show you them all quickly and easily through our website.
---
Selling your iPhone 7 with OnRecycle
When you log on to our website, you will notice a search bar that appears at the top of each page. All you need to do to see the trade in prices for iPhone 7 (which you are under no obligation to go ahead with!), is simply type in the details of your device.
Then you'll want to enter details about the condition of the iPhone 7 you wish to sell, including the network it's locked to and the phone's storage size- all helping to make the process of selling iPhone 7 even faster!
Once you've done this, a list of potential buyers will appear – we told you selling your iPhone 7 with us would be simple! Now that you've entered your details, you are in the perfect position to choose the recycler that fits your needs.
When you view the list of recyclers to sell your iPhone 7 to, it can be tempting to simply choose the recycler who offers the most money, however we recommend that you hold fire for a moment! Take the time to read reviews posted by other users, and take note of our handy star rating system. You may also want to research the recycler yourself by checking out their website.
Having chosen the best place to sell your iPhone 7 to, you are now free to go ahead and sell your iPhone 7 for cash! Click on the 'sell now' button, and follow the remaining options to post your handset and receive the money. If you are offered the option of selling through OnRecycle, we recommend that you do this; we will give you honest advice and guidance through the process (if needed) and you can rest assured that you are selling through our secure payment system.
---
Apple iPhone 7
The iPhone 7 was released in September 2016. By now, most Apple customers will be used to the functions of iPhones, and value the ease with which they can be operated. As the iPhone 7 weighs only 138g, phone calls and text messaging are easy and comfortable to perform.
Apple clearly thought of its users when it designed the iPhone 7, as it comes complete with both water resistance (up to 1 meter and 30 minutes) and dust resistance ratings. Furthermore, the iPhone 7 also has Apple Pay which enables users to pay for goods using their smartphone, without having to use their credit or debit cards. This is complemented by the iPhone 7's fingerprint sensor which makes purchases quick and secure.
The phone has a 4.7-inch display with a high-quality resolution of 750 x 1334. The display is particularly impressive when viewing photos created by the device's 12MP camera. The phone is available to purchase in 32GB, 128 GB and 256GB models, with a 2 GB RAM.
---
You are viewing:
Apple
iPhone 7
up to the price of:
£95.00